Donald Trump, 'The Art Of The Deal' Parodied By Johnny Depp On Funny Or Die After New Hampshire Primary Win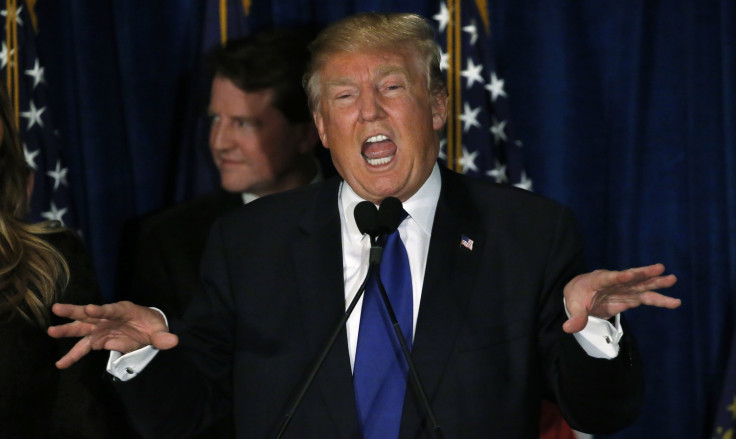 Donald Trump won his first big political battle Tuesday with an easy first-place showing at the New Hampshire primary, but humor website Funny or Die does not plan on letting him enjoy his victory lap.
Actor Will Ferrell ("Daddy's Home") and director Adam McKay's ("The Big Short") humor site released a 50-minute parody of Donald Trump's best-selling 1987 business advice book, "The Art of the Deal," Wednesday. The video reimagines the book as a 1980s TV movie of the week starring "Black Mass" actor Johnny Depp as the Republican front-runner.
While the Depp cameo is a pleasant surprise, it's just one of several celebrity appearances in the lengthy parody. Alfred Molina, Stephen Merchant, Patton Oswalt, Jack McBrayer, Andy Richter, Michaela Watkins, Paul Scheer and Rob Huebel, among others, all play big roles in the campy spoof.
The film opens with an introduction from Oscar-winning director — and purported film preservationist — Ron Howard ("Apollo 13"), who explains to the audience that "The Art of the Deal," which he says was directed by, written by and starred Donald Trump, was pre-empted in 1988 for a Monday Night Football game between the Cleveland Browns and the Indianapolis Colts. Howard says a furious Trump pulled the movie, and no one has seen it until now.
Watch the full "The Art of the Deal" movie below:
The Associated Press and MSNBC called the New Hampshire primary for Trump right after polls closed at 8 p.m. EST Tuesday night. Trump's victory was a triumphant return to the No. 1 spot in the hotly contested Republican race after the businessman fell to second last week in the Iowa caucuses behind Texas Sen. Ted Cruz. Trump netted 35.2 percent of the vote.
"We are going to start winning again, and we're going to win so much, you are going to be so happy," Trump said in his victory speech. "We are going to make America so great again. Maybe greater than ever before."
© Copyright IBTimes 2023. All rights reserved.