New Hampshire 2016: Donald Trump, Bernie Sanders Get Bang For Their Buck In New Hampshire; Jeb Bush Votes Are Priciest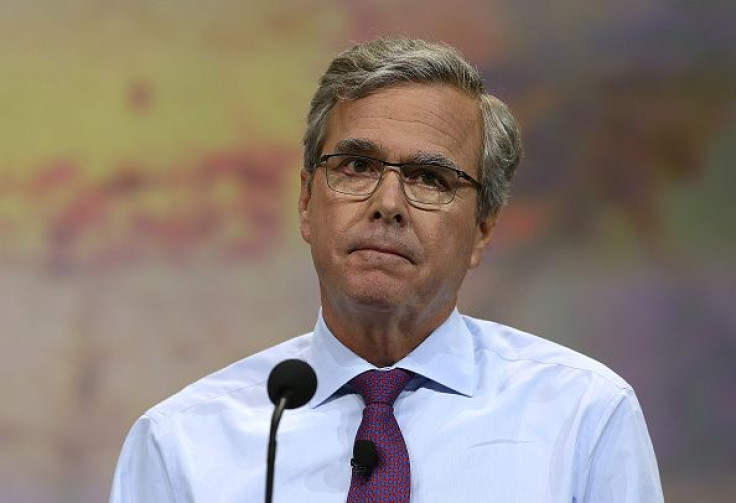 Donald Trump didn't have to spend much of his huge real estate fortune to win the New Hampshire Republican presidential primary Tuesday. Vermont Sen. Bernie Sanders, a self-described socialist, won the state's Democratic race with more votes than any other candidate and spent efficiently.
Trump, whose campaign has consistently spent less than his GOP rivals, ran only $3.7 million worth of television advertisements in New Hampshire, according to ad-spending data from Morning Consult. After finishing second in the Iowa caucus last week, Trump won the nation's first primary with an estimated $38 per vote — and potentially put to rest concerns that his strong poll numbers and celebrity wouldn't translate into turnout. Only Texas Sen. Ted Cruz, who came in third, had a lower cost per vote — $18 — than Trump, with 77 percent of votes counted.
Sanders spent $8.1 million on television ads, at cost of $54 per vote, with 79 percent of votes counted. While Democrat Hillary Clinton and her allies spent $10.8 million on ads, only to lose New Hampshire by double digits, the Iowa winner saw a better return on her investment in the state than most of the candidates in the Republican field. As was the case in Iowa, the candidates and super PACs that dropped the most money on television ads saw mixed results.
Ohio Gov. John Kasich, who surprised some observers with a strong second-place finish in New Hampshire, invested heavily in the state. Kasich and a super PAC backing him purchased $12.1 million worth of television ads, translating to roughly $263 per vote. Former Florida Gov. Jeb Bush placed a respectable fourth in New Hampshire, but his campaign and an allied super PAC spent $36.1 million on television ads. His $1,150 cost per vote far exceeded his rivals' and but was lower than his field-leading $2,835 in Iowa.
New Jersey Gov. Chris Christie, who finished sixth on Tuesday, put significant time and resources into New Hampshire. Christie's campaign and a super PAC supporting him paid $18.5 million on television ads, or $867 per vote. He also spent an eye-popping 72 days in the state, despite outrage back in New Jersey over his absence. Late Tuesday he was said to be reviewing his options and possibly dropping out.
Note: Vote totals are based on New Hampshire primary numbers from NBC News as of 11:33 p.m. Tuesday. Estimated spending is projected with 77 percent of the Republican primary votes counted, and 79 percent of Democratic votes in.
© Copyright IBTimes 2022. All rights reserved.
FOLLOW MORE IBT NEWS ON THE BELOW CHANNELS