Donald Trump Attacks Mexican Judge Gonzalo Curiel: 10 Times Republican Has Slammed Minorities
Add U.S. District Judge Gonzalo Curiel to the ever-growing list of minorities presumptive Republican nominee Donald Trump has insulted or attacked during the campaign season. Trump went after the judge presiding over civil fraud lawsuits in San Diego that have hit the New York businessman's Trump University venture by describing Curiel late Thursday as having "an absolute conflict" due to his "Mexican heritage."
"I'm building a wall," Trump said in an interview with the Wall Street Journal, referring to his campaign promise to build a barrier along the U.S.-Mexico border. "It's an inherent conflict of interest."
Curiel, who was born in Indiana to Mexican parents, has refused to respond to Trump's comments. Trump's attorneys have not filed any motions asking for another judge to be assigned in the case.
Democratic presidential hopeful Hillary Clinton slammed Trump's comments on Mexicans and Muslims during a foreign policy speech in San Diego on Thursday.
"And by the way, Mr. Trump — every time you insult American Muslims or Mexican immigrants, remember that plenty of Muslims and immigrants serve and fight in our armed forces," Clinton said.
Trump's remarks are the latest in a slew of hostile comments targeting both ethnic and religious minorities in the U.S. Here's a look at 10 other times Trump has insulted groups or refused to comment on controversial incidents.
1. Perhaps one of Trump's most well-known remarks came last June when he described Mexican immigrants coming to the U.S. as rapists and criminals.
"When Mexico sends its people, they're not sending their best. They're not sending you, they're not sending you [pointing to the audience]. They're sending people that have lots of problems, and they're bringing those problems with us. They're bringing drugs. They're bringing crime. They're rapists. And some, I assume, are good people."
2. In August, Trump kicked Univision reporter Jorge Ramos out of a news conference, telling him to "Go back to Univision" after the reporter tried to ask the Republican candidate about his controversial immigration perspectives.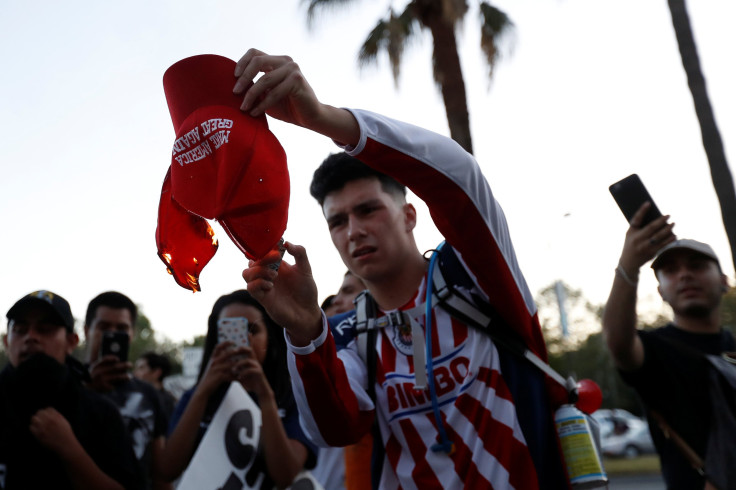 3. When hearing that two of his supporters had beaten up a Hispanic, Trump responded by saying his supporters are "very passionate."
4. To win voters, Trump posted a tweet on Cinco de Mayo of himself eating quasi-Mexican food. Many groups found the tweet offensive.
5. Trump has also drawn outrage from the Jewish community. Speaking at Jewish Coalition event in December 2015, Trump said "I'm a negotiator — like you folks."
6. Trump has had a strange relationship with David Duke, the former Ku Klux Klan grand wizard. When asked if he would publicly reject his support Trump said, "I just don't know anything about him."
7. Trump has also been slammed for sexist comments. In a clip unearthed from the early 1990s this week, he described a working wife as "a very dangerous thing."
8. In another of his more well-known remarks, Trump described Fox News anchor Megyn Kelly as having "blood coming out of her eyes. Blood coming out of her wherever" after she asked him about past sexist comments.
9. Trump called out President Barack Obama in a tweet in April 2015 as riots took place in Baltimore, underscoring the Obama's race.
10. In a strange statement in 2011, Trump described himself as a traditionalist, comparing same-sex marriage to golf.
"A lot of people — I don't want this to sound trivial — but a lot of people are switching to these really long putters, very unattractive. It's weird. You see these great players with these really long putters because they can't sink three-footers anymore. And, I hate it. I am a traditionalist. I have so many fabulous friends who happen to be gay, but I am a traditionalist."
© Copyright IBTimes 2023. All rights reserved.
FOLLOW MORE IBT NEWS ON THE BELOW CHANNELS