Donald Trump Called 'Power Hungry,' 'Sociopath' After Lashing Out At 3 Publications On Twitter
KEY POINTS
Donald Trump lashed out at the fake news media this week
The POTUS's tweet did not sit well with his critics
Donald Trump was accused of being power-hungry and was called a sociopath on Twitter
Donald Trump recently lashed out at three publications by accusing them of publishing fake news. However, his tweet did not sit well with his critics.
"Such Fake reporting by the @nytimes, @washingtonpost, @CNN & others. They use a small portion of a sentence out of a full paragraph in order to demean. They really are corrupt and disgusting. No wonder the media is, according to polls, record-setting low & untrusted. #MAGA," the POTUS wrote.
Immediately after, some netizens accused him of being power-hungry, while others claimed that he's a sociopath.
"We saw the briefing live… sweet baby Jesus… you're so power-hungry, you're walking over dead bodies and washing your hands with first responders' blood just to get a compliment. Pathetic little man," Twitter user @irishrygirl said.
"Go to bed you sociopath," Twitter user @WolfOfWeedST said.
"You said one little sentence about how you wanted them to appreciate FEMA etc. to cover your butt. But you went on and on about how you wanted them to be appreciative of you. We watched you live and have the video," Twitter user @mapleveewesem said.
"Your own words are corrupt and disgusting," Twitter user @ChrisBEsq said.
"This is the guy who's supposed to get the country through this health crisis," Twitter user @ChidiNwatu mocked the POTUS.
"Put your phone down. Go to sleep. Stop talking. Start doing," Twitter user @joelockhart said.
Meanwhile, some of Trump's supporters couldn't help but side with him. They also criticized the so-called fake news media.
"They have lost all credibility. It's gone, zip, nada. I would compare the fake news to used car salesmen but I don't want to insult the salesmen. And there is a vicious and corrupt intent to the fake news lies. They truly are the Enemy of the People," Twitter user @LindaSuhler said.
"You were right. The fake news is the enemy of the people. They don't care about protecting the American people. They only care about destroying you," Twitter user @thebradforlife said.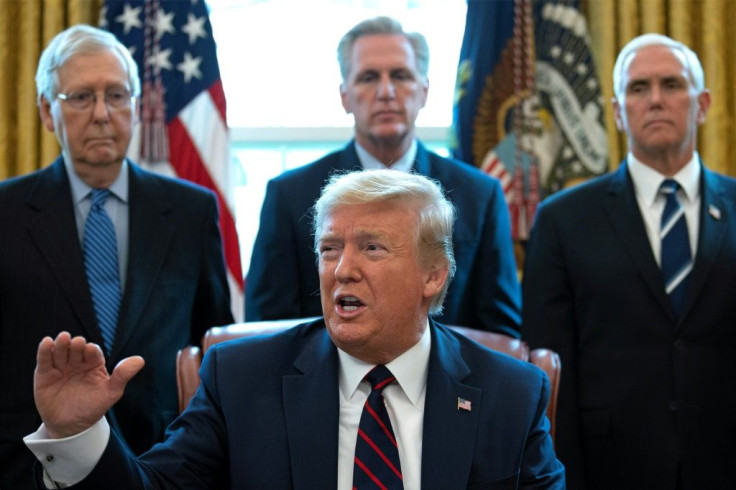 © Copyright IBTimes 2023. All rights reserved.