Donald Trump Calls Melania Trump 'Fantastic'; POTUS Makes Shocking Claim About His Wife
KEY POINTS
Donald Trump called Melania Trump a fantastic first lady
Donald Trump and Melania Trump sparked divorce rumors again
Donald Trump made shocking claim about Melania Trump at a fundraising event
Donald Trump recently called his wife, Melania Trump, fantastic.
Earlier this week, the FLOTUS shared an update regarding her Be Best campaign on Twitter. The POTUS retweeted the post with the caption, "Our fantastic First Lady!"
President Trump's tweet garnered a slew of mixed reactions from his followers.
"You struck gold with Melania, Mr. President! Happy New Year to you and your family!" Twitter user @Hoosiers1986 said.
"We have the best FLOTUS ever. She is truly a class act," Twitter user @real_defender said.
"She is beautiful, smart, and a classy first lady inside and out!" Twitter user @SexCounseling said.
Some netizens slammed the president of the United States and his wife. Others also accused them of lying about their marriage.
"She's a joke straight up," Twitter user @MichaelRapaport said.
"You are estranged from our first lady. Stop the [expletive]," Twitter user @JeffreyGuterman said.
"Melania gets to visit her boyfriend every month in New York and Donnie can do nothing about it!" Twitter user @Dreamin89 said.
"Did she invite her boyfriend tonight?" Twitter user @MashingTheGas said.
"Forget it, Donnie. You're still not going to get laid tonight," Twitter user @john_jwinecoff said.
Meanwhile, rumors regarding President Trump and Melania's alleged divorce have been rife throughout the past couple of months. Most recently, the POTUS made a controversial remark about the first lady during a Republican fundraising event.
In his unfiltered speech, the POTUS talked about House Minority Whip Steve Scalise, who was wounded in a mass shooting.
"[Scalise's wife] cried her eyes out when I met her at the hospital that fateful day. I mean not many wives would react that way to tragedy, I know mine wouldn't," he said.
President Trump's statement was interpreted as shade towards his relationship with Melania.
In her book "Unhinged: An Insider's Account of the Trump White House," Omarosa Manigault Newman also said that might only be waiting for her husband's presidential stint to be over before she would file for divorce.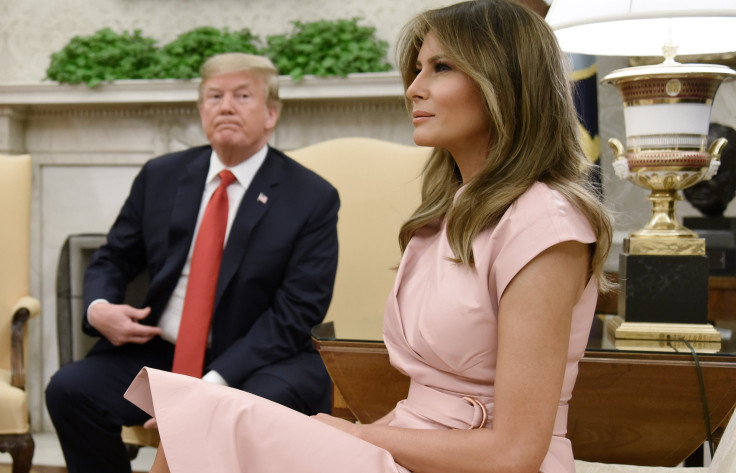 © Copyright IBTimes 2023. All rights reserved.