Donald Trump Could Put Sarah Palin In Charge Of Oil, Gas, Natural Resources After 'Drill, Baby, Drill' Chant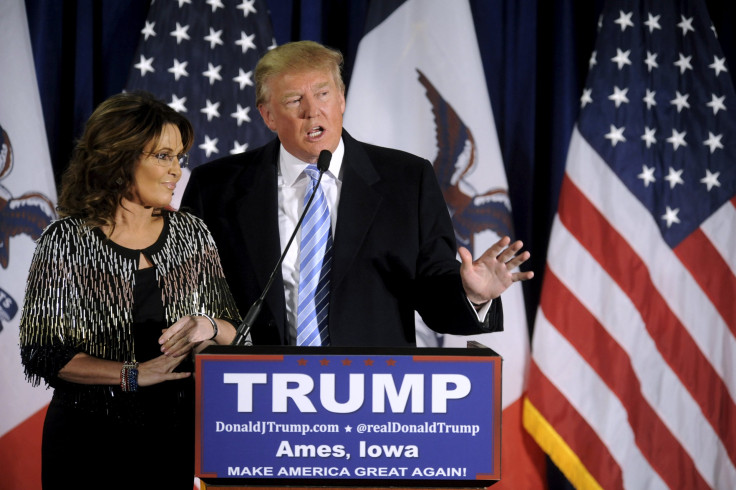 Now that Donald Trump is officially on his way to being the next president of the United States, he must decide how to fill his cabinet. According to reports, former Alaska governor and vice presidential candidate Sarah Palin is a top contender for secretary of the interior.
Trump mentioned he would like to appoint Palin to a position within his administration when she endorsed him in January 2016.
"It's such an honor, because, as you know, very badly, so many people are so disappointed that she didn't support them," Trump said in a January phone interview with NBC's "Today." "But certainly, there'd be a role in my administration, if she wanted, and I'm not sure that she does want that, but there'd certainly be a role."
It looks like that role might be secretary of the interior, according to Politico. The secretary of the interior leads the Department of the Interior, responsible for the nation's public lands and natural resources. The department oversees land, water and other natural resources, protects fish and wildlife and preserves the environment and historic places around the country. The department also coordinates relations with tribal communities and island territories.
Palin has developed a political platform based on making the U.S. energy independent.
"Energy is my baby," she said in an interview with CNN in September 2015. "Oil and gas and minerals - those things that God has dumped on this part of the earth for mankind's use instead of us relying on unkind foreign nations for us to import their resources."
As John McCain's vice presidential pick in 2008, Palin roused the Republican party around the rallying cry "drill, baby, drill," a call for increasing domestic oil and gas production. She also said in a September 2015 interview that if she were responsible for the Department of Energy, she would dismantle it altogether and leave energy decisions up to the states.
"Let's expedite the regulatory and permitting and legal processes for on and offshore drilling," she said in a Tea Party convention speech in 2010. "Instead of paying billions of dollars, hundreds of billions of dollars that now are being sent to foreign regimes, we should be drilling here and drilling now instead of relying on them to develop their resources for us."
Oil and gas production is a hot topic in a nation where climate change worries millions. At the Sioux Indian Reservation in South Dakota, protesters have gathered to denounce the Dakota Access Pipeline, a 1,172 mile pipeline that will connect North Dakota to Illinois.
President Barack Obama's current Secretary of the Interior is Sally Jewell. Jewell, a petroleum engineer, started out working in Oklahoma's oil and gas fields for Mobil Oil Corp before spending 19 years as a commercial banker.
Other contenders for Trump's secretary of the interior pick include Forrest Lucas, the founder of Lucas Oil, Oklahoma Gov. Mary Fallin and venture capitalist Robert Grady, among others.
© Copyright IBTimes 2023. All rights reserved.