Donald Trump Insulted Ted Cruz's Wife, Father And Faith, But They're Having Dinner Anyway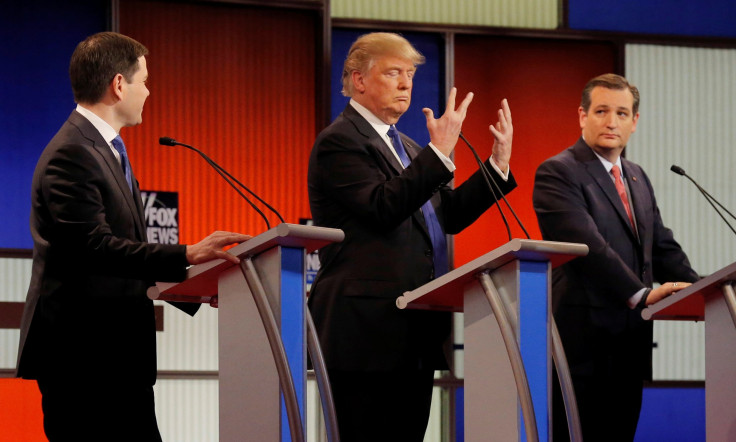 Wednesday night it'll likely be all smiles and overcooked steaks, but President Donald Trump and Sen. Ted Cruz, R-Texas, used to not like one another very much. The two GOP politicians are scheduled to have dinner at White House and will likely talk about the ailing Obamacare replacement bill offered by GOP legislators that's backed by Trump.
But when Cruz was facing off against Trump in the GOP primaries, the two men traded insults like baseball cards. Cruz threw his fair share of pot shots, calling the billionaire a "serial philanderer" and joking that he might run Trump over with his car. Trump, meanwhile, lobbed insults at Cruz, his family and his faith, among other subjects.
In July, Cruz declined to endorse the then-GOP nominee in his speech at the Republican National Convention, later saying he was not a "servile puppy dog." But Cruz eventually jumped aboard the Trump train, even famously phone-banking for the nominee in October. Ahead of the big dinner Wednesday, here's a reminder of six things Trump has said about Cruz.
1. Incorrectly connecting Cruz's father, Raphael, to the assassination of President John F. Kennedy
"His father was with Lee Harvey Oswald prior to Oswald being, you know, shot. I mean the whole thing is ridiculous. What is this? Right? Prior to his being shot. And nobody even brings it up. I mean, they don't even talk about that — that was reported. And nobody talks about it."
2. Commenting on the birther rumors about Cruz, who was born in Canada but was eligible for the presidency
"Republicans are going to have to ask themselves the question: 'Do we want a candidate who could be tied up in court for two years?' That'd be a big problem. ... It'd be a very precarious one for Republicans because he'd be running and the courts may take a long time to make a decision. You don't want to be running and have that kind of thing over your head."
3. On Cruz's faith
"To the best of my knowledge, not too many evangelicals come out of Cuba, OK? Just remember that, OK? Just remember."
4. Trump called Cruz, "Lyin' Ted" over and over
"You're the lying guy up here. You're the one. You're the one," he said during a March 2016 debate. "I've given my answer, Lying Ted. I've given my answer."
5. On Heidi Cruz, Ted's wife
"Lyin' Ted Cruz just used a picture of Melania from a G.Q. shoot in his ad. Be careful, Lyin' Ted, or I will spill the beans on your wife!"
6. Manually retweeting a post with an unflattering picture of Heidi Cruz with the comment, "A picture is worth a thousand words." The tweet remains up.
© Copyright IBTimes 2023. All rights reserved.
FOLLOW MORE IBT NEWS ON THE BELOW CHANNELS