Donald Trump To Let Steve Bannon Testify Before Jan 6 Committee
Donald Trump's former White House chief strategist Steve Bannon said he would testify before the House Select Committee investigating the Jan. 6 attack.
Bannon said he would testify after Trump sent him a letter that waived him of his executive privilege. Trump reportedly sent Bannon the letter on Friday.
"If you reach an agreement on a time and place for your testimony, I will waive Executive Privilege for you, which allows you to go in and testify truthfully and fairly," Trump wrote to Bannon.
Bannon may not have been able to cite executive privilege since he did not work at the White House at the time of the attack as members of the committee have noted.
Bannon's lawyer Robert Costello wrote in a letter that, "Bannon is willing to, and indeed prefers, to testify at your public hearing."
Trump's letter to Bannon said he felt bad for his allies who defied subpoenas from the committee because they had to "spend vast amounts of money on legal fees." Trump said that Bannon and the rest of his allies received unfair treatment because of their "respect" for the White House. Bannon has faced two counts of contempt of Congress.
Trump also disparaged the committee, calling it "the illegally constituted Unselect Committee."
Trump also referred to members as "thugs and hacks," who allowed "no real Republican members or witnesses to be present or interviewed." Republicans on the committee include Rep. Liz Cheney, R-Wyo., and Adam Kinzinger, R-Ill., who have faced the brunt of many attacks from within their party.
Trump called the committee a "kangaroo court."
"Why should these evil, sinister, and unpatriotic people be allowed to hurt and destroy the lives of so many, and cause such great harm to our Country?" Trump asks in his letter to Bannon.
It is still unclear when and how Bannon will testify. The committee's next public hearing will happen on Thursday.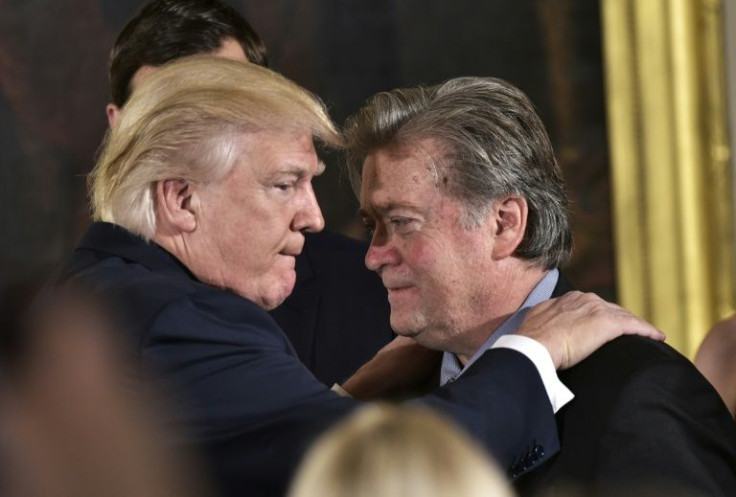 © Copyright IBTimes 2023. All rights reserved.