Donald Trump Reportedly Regrets Being Forced By Melania To Do This Move
KEY POINTS
Donald Trump regret giving into pressure from wife Melania Trump
Donald Trump and Melania Trump's relationship
Melania Trump sparked marital feud rumors
Donald Trump allegedly regrets being pressured by wife Melania Trump.
The president told his health secretary that he was not happy with his choice of getting involved in the administration's policy on vaping. The POTUS was reportedly only influenced by Melania.
"I should never have done that [expletive] vaping thing," Trump said (via Political Fare ) in an Oval Office meeting.
The banning of flavored vapes is one of the most prominent health policy decisions from the Trump administration. According to sources, Trump did not regret for the specific vaping policy outcome. His team was convinced that it was his decision to be personally involved into the vaping and e-cigarette policy that he was not happy about because he could have left it to the Food and Drug Administration.
According to Political Flare, it was Trump's wife who fought to get vaping banned. The FLOTUS also allegedly forced the POTUS into giving the issue a serious consideration.
"I am deeply concerned about the growing epidemic of e-cigarette use in our children. We need to do all we can to protect the public from tobacco-related disease and death, and prevent e-cigarettes from becoming an on-ramp to nicotine addiction for a generation of youth. @HHSGov," Melania wrote on Twitter in September 2019.
A survey from the Centers for Disease Control revealed that more than a quarter of high school students used e-cigarettes in the past 30 days and that overwhelmed the majority including the FLOTUS who has a 13-year-old son, Barron.
"We can't have our kids be so affected. That's how the first lady got involved. She's got a son … a beautiful young man, and she feels very, very strongly," Trump said.
In related news, Melania and Trump will be celebrating their 15th wedding anniversary next week. However, the FLOTUS sparked marital feud rumors when they made an appearance at the NCAA College Football Championship because her facial expression changed when the POTUS reached out to hold her hands. Melania was initially smiling but she grimaced when her spouse initiated the physical contacts. There were also clips showing Melania pulling her hands away from Trump.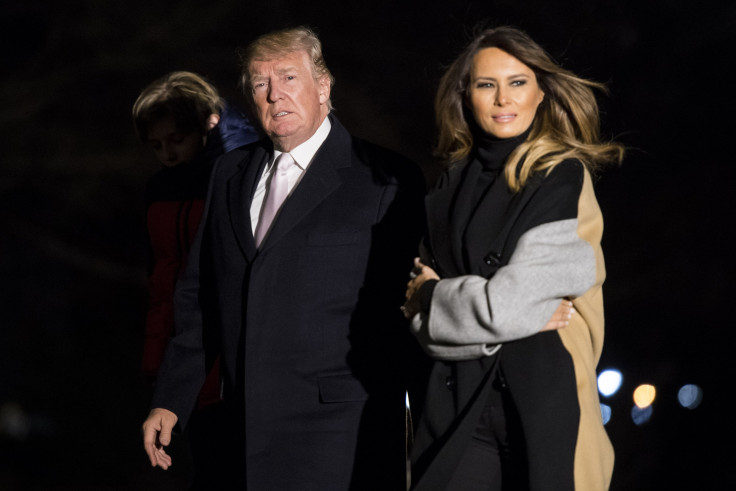 © Copyright IBTimes 2023. All rights reserved.