Donald Trump Slams H-1B Program, Stocks Modeling Agency With 'Underpaid' Catwalkers On Same Visa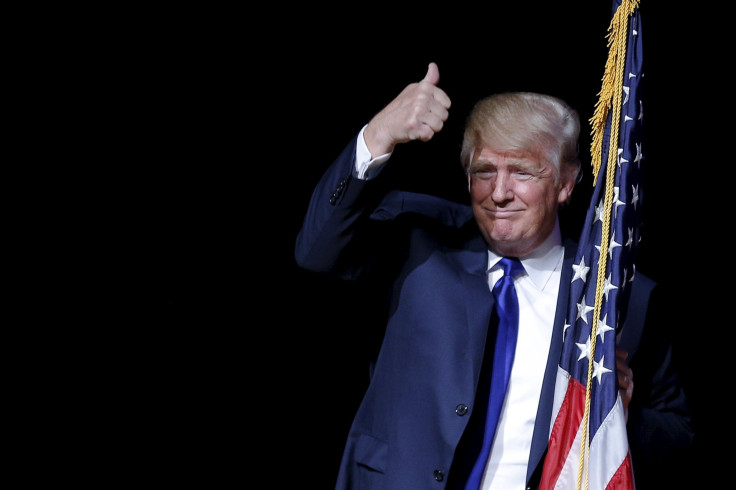 In slamming America's immigration system, Donald Trump has found a new target: a special visa program that lets corporations import highly skilled foreign workers when they say they cannot find enough Americans to fill specialized positions. Backed by studies that suggest some employers use the H-1B program simply to avoid paying competitive salaries, Trump has in recent days said there are plenty of available American workers for such jobs. "We need companies to hire from the domestic pool of unemployed," Trump wrote in his immigration plan, released Sunday.
The current front-runner for the Republican Party's 2016 presidential nomination has also demanded that the U.S. Department of Labor more strictly enforce rules that require wages for H-1B workers to be at least equal to what their U.S. counterparts are earning.
But in at least one case, one of Trump's own companies, Trump Model Management, is accused of bringing in a worker on an H-1B visa, and paying her a starvation wage far below the amount promised her. Alexia Palmer, a 21-year-old Jamaican model, has sued Trump Model Management for allegedly offering her a salary of $75,000 annually but paying her just under $4,000 for three years of work. Palmer claims the $75,000 amount was documented on the company's application for her visa.
Palmer is not the only H-1B visa holder in Trump's corporate empire. Trump Model Management has filed at least 27 requests for H-1B visas since 2011, and all but one have been approved, according to data compiled by MyVisaJobs.com. In all, Reuters has reported, Trump-owned companies have applied for at least 1,100 visas for foreign workers since 2000. That includes 250 total visas at Trump Model Management.
The Trump-owned company's roster of foreign-born models includes Tiana Tolstoi, Ingrid Seynhaeve and Harje Andresen.
The candidate's presidential campaign did not respond to questions from International Business Times about how the Palmer case squares with Trump's own statements about the H-1B program.
Broader Policy Agenda
Trump's critique of the H-1B program is wrapped in a broader immigration policy agenda, which includes his proposals to triple the number of agents working for U.S. Immigration and Customs Enforcement, end citizenship rights for the U.S.-born children of undocumented immigrants, force Mexico to build a border wall and punish so-called "sanctuary cities" that do not use local police to help deport immigrants. The Trump campaign's official position paper also attacks Mexico as "taking advantage of the United States by using illegal immigration to export the crime and poverty in their own country" and argues that the "influx of foreign workers holds down salaries."
But some labor economists argue that focusing on immigrant workers as the source of wage stagnation diverts attention from what they say is the real source of wage suppression: corporate abuse of the immigration system.
Daniel Costa, of the labor-backed Economic Policy Institute, says data doesn't support much of Trump's rhetoric about unskilled immigrants driving down wages. But there is little doubt that corporations have abused the H-1B visa program, which gives corporations enormous economic bargaining power over workers whose immigration status they effectively control. The H-1B is good for an initial, three-year term and can be renewed for an additional three years. But there is no direct path from the visa to permanent residence, or "green card," status.
"Immigrants aren't pushing down wages, but corporations are using temporary 'nonimmigrant' guestworker programs to push down wages," Costa told IBTimes.
'Primarily To Cut Labor Costs'
Earlier this year, Howard University professor Ron Hira obtained government data showing that the largest recipients of H-1B visas were two Indian firms that help companies outsource jobs. He said that while corporations claim they use the H-1B program only when they cannot find enough science, technology, engineering and math (STEM) graduates, the salary information in the government data proves that companies are not using "the H-1B visa as a way to alleviate a shortage of STEM-educated U.S. workers; they use it primarily to cut labor costs." Hira's report followed earlier studies showing there is no overall shortage of STEM workers. A number of tech giants, including IBM, Microsoft and Facebook, dispute those studies.
In April, Republican Sen. Charles Grassley of Iowa wrote to IBM officials, demanding to know why the company was simultaneously planning to lay off American workers while requesting H-1B visas -- reportedly to fill positions the company says it "cannot source locally" with American workers. In May, a group of 10 Republican and Democratic senators wrote to federal agencies, requesting an investigation into allegations that companies are abusing the H-1B program.
Much of the debate over H-1B visas has centered around high-tech workers. But in the Trump Model Management case, the visas are used for fashion models. One of those models was Palmer, who had been exclusively employed by Trump Model Management from 2011 to 2013, Law360 reported. The news service reported that Trump Model Management deducted agency fees, postage and the cost of makeup kits from her salary, leaving her with far less pay than she was promised. Palmer's attorneys argue that the wage theft was systemic among TMM models.
"If the allegations in Alexia Palmer's lawsuit against Trump Model Management are true," EPI's Costa says, "then what happened to her would be a perfect example" of the kind of H-1B abuse that Trump himself has attacked.
FOR FREE to continue reading
✔️ Unlock the full content of International Business Times UK for free
offer available for a limited time only
✔️ Easily manage your Newsletters subscriptions and save your favourite articles
✔️ No payment method required
Already have an account?
Log in
© Copyright IBTimes 2023. All rights reserved.