Donald Trump Snubs Barron's Birthday On Twitter? Netizens Mocked POTUS For Ignoring Son
KEY POINTS
Donald Trump ignored Barron's birthday on Twitter
Melania and Tiffany Trump greeted Barron on Twitter for his birthday
Savaged Donald Trump praised by netizens
Donald Trump reportedly snubbed Barron's birthday on Twitter.
On Friday, Trump's son with wife Melania Trump, Barron, celebrated his 14th birthday. The POTUS who is very active on social media didn't make any mention of his son in one of his posts on that day, which prompted some netizens to interpret that he ignored Barron's birthday.
"I know it's your birthday, Barron, but I've got a whole country to ignore, not just you," one wrote on Twitter.
"Here's a bunch of masks and swabs to play with," another online user commented.
"Go help Melanie with the tennis casino," a different netizen opined.
While Trump ignored the event, the FLOTUS sent love to her son on Twitter. The first lady kept her message short and only wrote "Happy Birthday BWT" along with a photo of number foil balloons that read "14."
Trump's daughter with ex-wife Marla Maples, Tiffany Trump, also penned a sweet tribute for her younger brother. She took on Twitter to make the day extra special for Barron.
"Happy 14th birthday to the best "little" brother I could ever ask for! You mean so much to me, Barron, I wish you all the happiness in the world! Love you! @FLOTUS @realDonaldTrump," Tiffany wrote.
This isn't the firs time Trump ignore an important event on social media. In January, the first couple celebrated their 15th wedding anniversary. The POTUS also made tons of tweets but not even one of them was for his wife, which prompted some online users to react.
"Donald Trump sent 141 tweets today. None of them wished Melania a happy Wedding Anniversary," one wrote.
"Given his mental state I'm surprised he still remembers he's married," another added.
Meanwhile, Trump was praised for in one clip when he showed the savage side of him. During a press conference, Trump was asked if he has a guideline after some members of the congress tested positive for coronavirus.
The POTUS told the press that he wasn't sure if the congress were seated like them because for him, the media were too close to each other. He continued saying that he would get rid of about 75 to 80% of them and pointed at two members of the press telling them to "leave immediately."
"I love this. A republican president that fights back! How refreshing!!!!" one netizen wrote.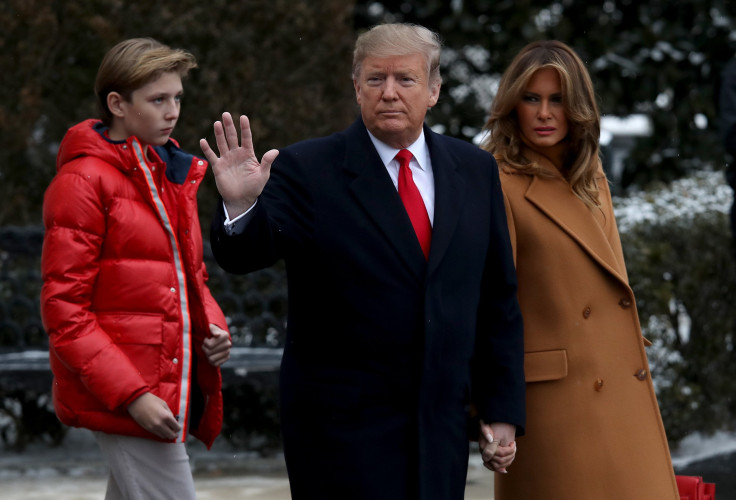 © Copyright IBTimes 2023. All rights reserved.