Donald Trump's Throwback Photo With Young Ivanka Creeps Out Twitter Users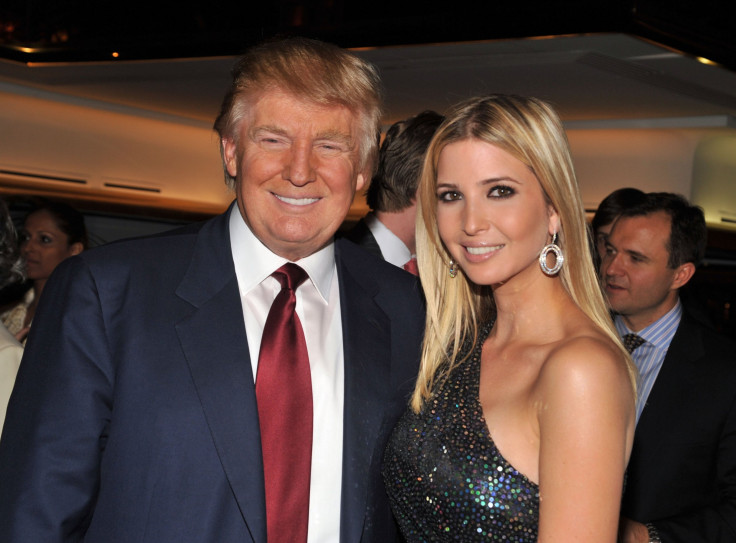 A picture of Donald Trump and his daughter Ivanka, when she was 15 years old, is making people cringe and speculate if she is indeed his biological daughter. According to a report by Hollywood Life, the photo was pulled from a shoot for Vanity Fair at his Mar-a-Lago estate in Florida and shows Ivanka sitting on his lap and holding his face with one hand.
Social media users said that the way she was seated on Donald's lap did not look like a daughter would. Users also pointed out the expression on Ivanka's face in the 1996 photo and said that it was not a usual daughterly look. Both were seen seated on a structure where two parrots appeared to be having sex, Hollywood Life reported.
Donald has been said to be inappropriate in his comments about his daughter and in 2003, he said on a radio show with Howard Stern: "You know who's one of the great beauties of the world, according to everybody. And I helped create her. Ivanka. My daughter, Ivanka. She's six feet tall, she's got the best body," Hollywood Life reported in December.
In 2006, he was seen in an interview with "The View" discussing how he would feel if she was in a Playboy magazine. Trump said in the interview, according to Mashable: "It would be really disappointing — not really — but it would depend on what's inside the magazine," adding: "I don't think Ivanka would do that, although she does have a very nice figure. I've said if Ivanka weren't my daughter, perhaps I'd be dating her."
In September 2015, Donald said in an interview with Rolling Stone, cited by Hollywood Life: "Yeah, [Ivanka's] really something and what a beauty, that one," adding: "If I weren't happily married, and ya know, her father..."
Here are some tweets over the photo:
© Copyright IBTimes 2023. All rights reserved.
FOLLOW MORE IBT NEWS ON THE BELOW CHANNELS