Donors Seek Clinton Comeback, Sharper Message Before Debate With Sanders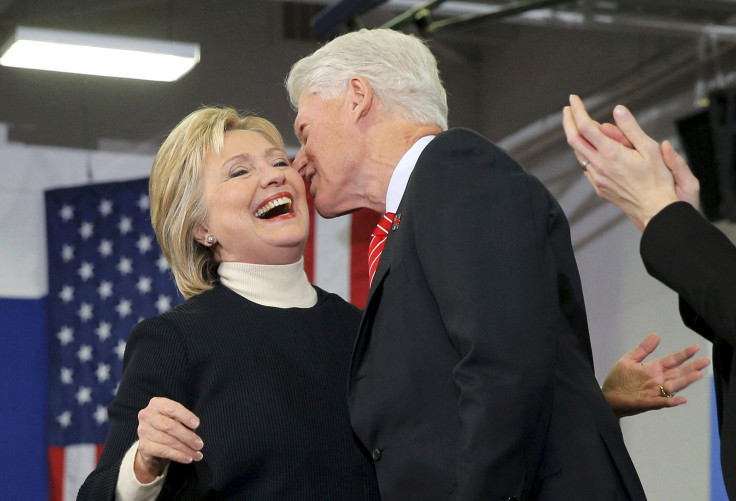 Democratic U.S. presidential candidate Hillary Clinton will try to mend her badly wounded campaign in a debate on Thursday with rival Bernie Sanders, an encounter many of her donors said would allow her to play a role that suits her — embattled underdog.
After her 22-point loss to Sanders in New Hampshire's primary, Clinton headed back to New York, where her campaign is based, on Wednesday to confer with top advisers and prepare for the faceoff with Sanders, set for 9 p.m. EST (0200 GMT Friday) in Milwaukee.
Several among Clinton's wide circle of donors told Reuters they believed her surprisingly large loss in New Hampshire would bring out the fighter in her.
This would help prepare her, both for the contests ahead in her party's nomination process and to take on a Republican candidate in the Nov. 8 general election, they added.
"I'm extremely happy right now that someone threw some jinx on her, threw some gut punches where she now has to get up off the floor," said Orlan Johnson, a Maryland consultant who was on President Barack Obama's finance team and is now bundling money for Clinton. "This is the battle-testing she needs to win in November."
Some donors said a growing sense of nervousness was setting in, however, especially after Sanders' campaign reported raising more than $6 million in the 24 hours after his New Hampshire win.
The word "disappointed" came up several times during a conference call the Clinton campaign held on Wednesday with donors and fundraisers, said one supporter who was on the call.
The campaign denied reports that Clinton is considering a staff shake-up, but aides said additional people may be hired.
Many donors said they thought one immediate task for the former secretary of state's campaign would be to improve upon her messaging.
Sanders, a democratic socialist U.S. senator from Vermont, has built his campaign around a promise to rein in big business and Wall Street, while Clinton has emphasized her detailed policy proposals on issues from healthcare to financial reform.
Several supporters said a simpler message might bring Clinton more success in galvanizing voters, a refrain that taps hearts as well as minds and can compete with the visceral appeal of both Sanders and Republican Donald Trump.
Some donors said they would like to see Clinton retool the way she communicates her thinking to voters, tempering an emphasis on policy that one donor called "PowerPoint Hillary."
"Boil it down, be clear, be succinct, and make absolutely sure everybody knows you have a plan," said Shekar Narasimhan, a Clinton donor and managing partner at Beekman Advisors.
Sanders has called for leveling the economic playing field by breaking up the big banks, creating a single-payer Medicare-for-all healthcare plan and offering government-paid public college tuition.
Clinton, the prohibitive front-runner in the race for months, barely beat Sanders last week in Iowa and lost decisively in New Hampshire in the first two nominating contests. Both states have nearly all-white populations.
The race now moves to Nevada, South Carolina and other states with more black and Hispanic voters, who, polls show, have been more favorable to Clinton so far.
Clinton on Thursday won the endorsement of the Congressional Black Caucus, a significant ally as Sanders tries to make inroads among African-American voters.
The shift to more diverse states raises the stakes for Thursday's debate. When the two took the stage last week for their first one-on-one encounter of the campaign, they clashed sharply over their progressive credentials.
Some of Clinton's top donors said they thought she performed well under pressure, as during her 11 hours of testimony to a congressional panel investigating the 2012 attacks on the diplomatic compound in Benghazi, Libya, and in the grueling 2008 nominating battle she lost to Obama.
But there was a familiar feel to Clinton's flameout in New Hampshire, said critics of her campaign, as well as some major Obama donors who have yet to commit to her.
"It's the same movie, all over again," said a lead Obama fundraiser, Kirk Dornbush, a San Francisco biotechnology executive who has not yet committed to a candidate.
"It's 2008, running with the inevitability cloak and having that fail miserably."
About half of 17 Clinton donors contacted by Reuters on Wednesday said they felt she needed to project more of her personality in intimate settings, showing the "warm, genuine affable and funny" person they know.
Most donors expressed confidence that Clinton's campaign would be on more solid ground by the Super Tuesday voting on March 1, when Democrats cast ballots in 11 states.
"I would have been prepared for her to lose the first two states because they were so favorable to Bernie Sanders," said Carrin Patman, a partner at Houston law firm Bracewell who has raised $250,000 for Clinton.
"For me, it doesn't make me feel she needs to retool. Super Tuesday is just around the corner."
© Copyright Thomson Reuters 2023. All rights reserved.