Don't Throttle Me: How To Avoid Slowdowns On Mobile Data Plans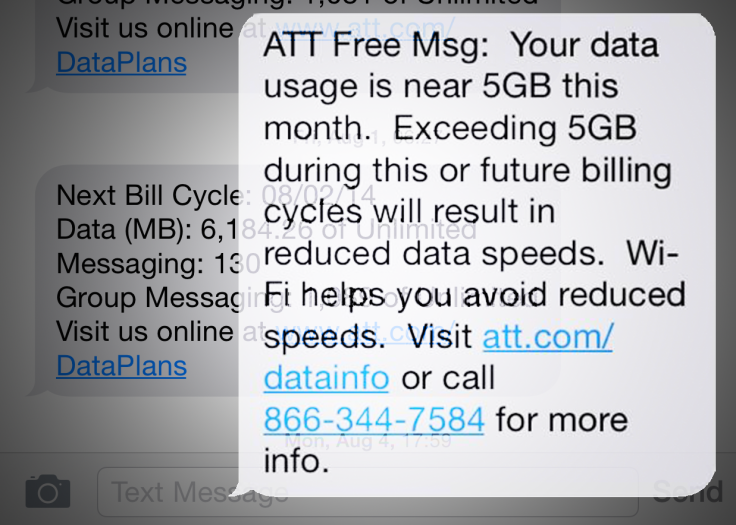 Imagine you load up your plate with crab legs at an all-you-can-eat buffet in Las Vegas. But on your second trip to the food stations, the attendant says from here on you can only take what will fit on a saucer. You'll still wind up with as much food as you can eat, but to get your money's worth you'll have to keep shuffling between your table and the buffet stations. Meanwhile, the family that purchased a "limited package" allowing just two trips to the buffet line can grab as much as they can fit on a big plate both times.
That sums up the experience for some wireless customers who have held on to their "unlimited" data plans offered on U.S. carriers such as Verizon Wireless and AT&T. Despite "unlimited" being in the names of those plans, most wireless carriers say the term doesn't apply to the speed at which users receive data. As a result, customers on those plans are often subjected to throttling, or the slowing down of data flowing to and from their smartphone over a mobile connection.
It's a practice that angered wireless users in 2011, when AT&T began throttling its unlimited data plan customers. That led to a lawsuit filed against the company by the Federal Trade Commission, which alleged that the carrier did not properly notify customers of the policy.
Here are a few things that can ensure you don't get throttled, as well as some alternative mobile options.
Use Wi-Fi When Possible
It's not the answer many users want to hear, but postponing data-intensive events such as watching Netflix or downloading app updates until they have a Wi-Fi connection ensures there is enough high-speed data for on-the-go tasks. For AT&T unlimited data customers, throttling can happen once they consume 5GB within their billing cycle, according to the company's frequently asked questions page. Verizon customers can avoid throttling by using their data package during off-peak times. Verizon only throttles unlimited data users during peak usage times, which it calls "network optimization." It's a practice that came under scrutiny by the FCC when Verizon announced it would extend throttling to its 4G LTE customers in July.
Use Data-Saving Features
A number of streaming apps such as Pandora allow users to stream content at a lower quality to conserve data. Users also can try another browser, such as Opera Mini, which compresses websites before sending data to a mobile device.
Switch To A Limited Plan
If you're not consuming more than 10GB per month with two or three devices, switching to a mobile data share plan may be a better deal than keeping a grandfathered unlimited data package. If you're out of contract, you can switch to a no-contract plan, with shared data on AT&T priced at $100 a month for 15GB plus access charges of $15 per device. These plans also include unlimited talk, text and the ability to use your smartphone or tablet as a mobile hot spot at no extra charge, a feature AT&T disallows its unlimited data customers. One drawback is your plan would be subjected to overage charges.
Ditch Your Carrier
If you're constantly being throttled, switching to a carrier with more lenient policies may be your next step. Though T-Mobile offers a number of smaller data plans (subject to similar limitations), it also has a fully unlimited plan for $80 a month, which includes unlimited high-speed 4G LTE data as well as unlimited talk and texting. It also includes mobile hot spot access, but that's limited to 5GB a month. Sprint offers a similar package for $60 a month. But keep in mind both T-Mobile and Sprint have their own policies that allow them to slow down data speeds based on network performance.
© Copyright IBTimes 2023. All rights reserved.