'Downton Abbey' Gift Guide: 16 Christmas Presents For The Crawley Family Fan In Your Life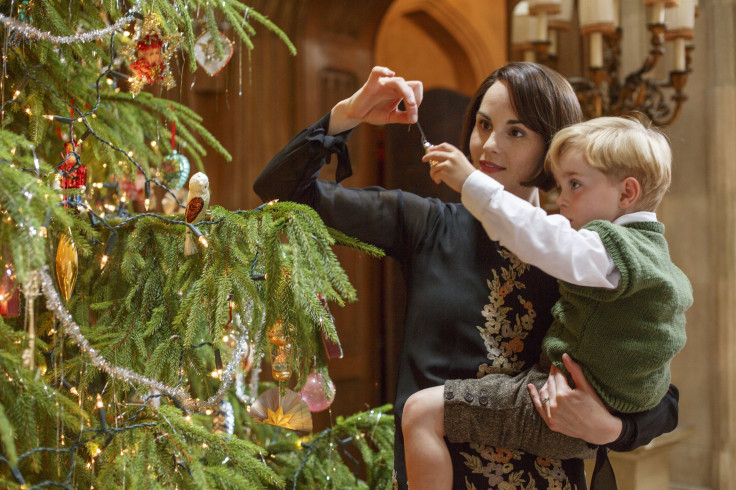 Shopping for "Downton Abbey" fans doesn't have to be difficult. Sure, you can't buy them a castle or hire a kitchen staff, but you can still make them feel like aristocracy with some great holiday gifts. Below are 16 present ideas that'll excite your favorite "Downton Abbey" fan even more than the 2015 Christmas special.
Readers -- Plenty of books on "Downton Abbey" have been written. For an easy read, try "The Wit and Wisdom of Downton Abbey" by Jessica Fellowes ($15.99). The book collects the best quotes from the PBS drama. The author is the niece of the show's creator, Julian Fellowes, and has written quite a few books on his show. For something a little longer, try Jessica Fellowes' "A Year in the Life of Downton Abbey" ($29.99), which chronicles the events and celebrations the family had in 1924 and offers several recipes for readers to try.
Music Lovers -- Listen to the sounds of the early 1900s. The "Christmas at Downton Abbey" CD ($12.99) is great for the holidays. "Downton Abbey: The Essential Collection" ($11.34) and the first soundtrack ($12.18) are also fitting gifts.
Tea Drinkers -- The characters on "Downton Abbey" are always sitting down for a nice cup of tea, and it's one thing that anyone can do in any era. The Republic of Tea has several types of "Downton Abbey" teas available ($12 each).
The Party Host -- If you're buying for someone who likes to entertain guests, they can get plenty of "Downton"-themed equipment. A set of four wine glasses ($49.99) with quotes from the Dowager Countess (Maggie Smith) are a fun way to serve a drink. A cocktail shaker ($27.19), a cheese paddle ($28.89) or an old-fashioned corkscrew ($27.19) will also make a great gift for the party host.
Interior Decorators -- If someone uses their home to show off their love for the PBS drama, they can decorate their house with all sorts of products. Try a candle (starts at $25.95) or an artsy poster (starts at $16.50).
The Organizers -- Help your "Downton Abbey" fan stay organized with a planner, wall calendar or a page-a-day calendar (all $14.99).
Travelers -- If a trip to England is in your future, check out the real Downton Abbey. Though the storyline is fictional, the show films at Highclere Castle in West Berkshire. Tickets to Highclere Castle are on sale for the spring (starting at £15.00 for adults).
© Copyright IBTimes 2023. All rights reserved.