'Downton Abbey' Season 5 Spoilers: Will Edith Get Her Baby Back? Laura Carmichael, Hugh Bonneville Tease Baby Daddy Drama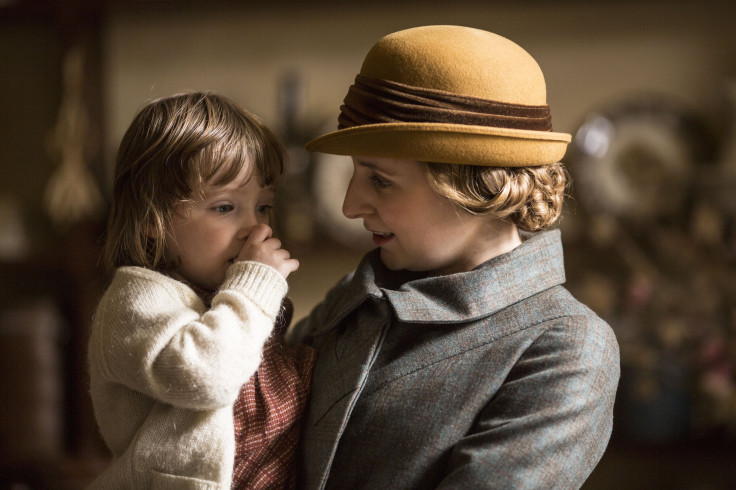 "Downton Abbey" Season 5 is a little late coming to the States, but it will still have plenty of drama. Lady Edith (Laura Carmichael) will face a lot of problems with her baby secretly at Downton. Carmichael and co-star Hugh Bonneville teased some of the juicy bits about Edith's upcoming baby-daddy drama at a PBS press screening in New York Monday night.
Last season on "Downton Abbey," Edith wanted to give her baby to a local farmer's family, but her Aunt Rosamund (Samantha Bone) convinced her to put the baby up for adoption. She went off to Geneva to have the baby, but in last season's finale it was clear she was going to take her daughter back to England.
"At the end of Season 4 you learn that she's going to bring her daughter back to the estate," Carmichael explained. "She's going to bring her to the Drewe family, who are going to adopt her as an orphan. Edith has told this lie that she knew her mother and she's passed away. So yeah, she's put herself in a difficult situation. She's in more danger of being caught, but she needs to be near her young daughter and that's it. She's sort of fighting to be part of her life."
This secrecy will cut Edith off from much of her family throughout "Downton Abbey" Season 5. "It was a different sort of season for me because I was a lot more on my own with the Drewe family," Carmichael said.
"In true 'Downton' style, Edith's story will all go according to plan," Hugh Bonneville added, sarcastically. His character, Lord Grantham, likely won't take it well if he finds out his daughter had a child out of wedlock and without his knowledge.
The father of her child might not take it well either. Michael Gregson (Charles Edwards) went to Germany and has been missing for a couple years when "Downton Abbey" Season 5 starts. Carmichael played coy when asked if the viewers would learn anything about her lover's whereabouts. "Um, you'll have to wait and see," she said.
Luckily, Bonneville was a little more revealing. "Yes, we do [find out what happened]," he said.
Bonneville didn't look happy when he delivered that answer. Could something tragic have happened to Mr. Gregson? In any case, Lord Grantham should probably be concerned about his own spouse. Lady Grantham (Elizabeth McGovern) was getting awfully close to George Clooney in a sneak peek of the Christmas sketch.
"Downton Abbey" Season 5 premieres Sunday, Jan. 4, at 9 p.m. EST on PBS. What do you think happened to Mr. Gregson? Sound off in the comments section below!
© Copyright IBTimes 2023. All rights reserved.
FOLLOW MORE IBT NEWS ON THE BELOW CHANNELS