Downtown Chicago Rocked By Violence, Looting After Police Shooting
KEY POINTS
Hundreds of looters filled downtown Chicago overnight, with many seen leaving with bags of items as more were dropped off
Multiple gunshots were fired, prompting police on the scene to return fire
Chicago police said it was not clear if the looting was related to smaller altercations between police and residents following a shooting on Sunday
Dozens of downtown Chicago and Near North Side businesses were damaged early Monday as hundreds of looters rampaged through the streets. More than 100 people were arrested.
Looting began shortly after midnight along the posh Magnificent Mile shopping district along Michigan Avenue, just north of the Loop. Looters were seen carrying shopping bags filled with merchandise, and at least one U-Haul van was seen pulling up.
"What occurred in our downtown and surrounding communities was abject criminal behavior, pure and simple," Mayor Lori Lightfoot told a news conference. "And there cannot be any excuse for it. Period."
Police Superintendent David Brown said there was no organized protest.
"Rather this was an incident of pure criminality. This was an act of violence against our police officers and against our city," he said.
Lightfoot said she has no plans to call in the National Guard or ask for help from the federal government.
Access to the downtown area was cut off until about 8 a.m. Public transportation was suspended and most of the bridges across the Chicago River were raised. Illinois Department of Transportation trucks blocked access to ramps leading into the downtown area.
Shortly before midnight, people were seen breaking windows while others ran in and out of stores with bags of merchandise before fleeing the scene. Police said the crowd size fluctuated during the early morning hours as many left after looting stores while more were dropped off to participate. Many of the newly looted stores were next to outlets still boarded up from damage created by the wave of unrest following the Memorial Day killing of George Floyd in Minneapolis.
Along with the looting, police said many in the crowd began throwing items at responding officers, who were outnumbered. Alderman Brian Hopkins said the marauding vandals numbered around 500.
The situation turned more violent after shots were fired at police around 5 a.m., forcing officers to return fire. No one was wounded. One firearm was recovered at the scene as police made arrests.
Police said it was not clear if the overnight chaos was related to smaller confrontations between police and residents on Sunday after a young man was wounded in a shootout with police.
Police were called after someone described as being in his late teens to mid-20s was spotted with a firearm near a city park around 2:30 p.m. Sunday. The individual reportedly attempted to flee shortly after police arrived as both exchanged gunfire. The suspect suffered at least one wound from the exchange and was taken to University of Chicago Medical Center for treatment.
An update has not been provided on his condition.
A crowd of around 30 people confronted police around 3:30 p.m. Police said an agitator allegedly fed the crowd false information that the man shot was actually a child. One officer suffered a shoulder injury and another was sprayed with pepper spray as tensions boiled over. The altercations resulted in at least two arrests until the crowd calmed down and ultimately dispersed.
(Updated at noon EDT)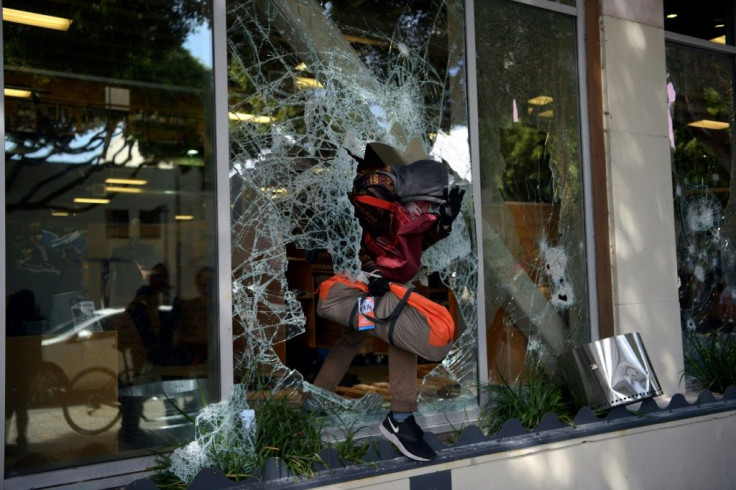 © Copyright IBTimes 2023. All rights reserved.