Dr. Fauci Issues Christmas Warning: 'It's Not Too Late To Do Something About This'
The nation's leading infectious disease expert Dr. Anthony Fauci, has doubled down on his warning for Americans during the upcoming holiday season, saying that restrictions and travel advisories will be necessary heading into Christmas.
Fauci, a White House coronavirus adviser and director of the National Institute of Allergy and Infectious Diseases, made the announcement Sunday during NBC's "Meet the Press," saying the U.S. was heading into a difficult period of the coronavirus pandemic as the holiday season arrives.
"What we expect, unfortunately, as we go for the next couple of weeks into December, is that we might see a surge superimposed on the surge we are already in," he said. "I don't want to frighten people, except to say it is not too late to do something about this."
The warning of a "surge superimposed on the surge" comes as more than 9 million took to airports over the Thanksgiving holiday despite a warning from the Centers of Disease Control and Prevention to avoid travel, CNBC reported. The CDC issued the warning ahead of the holiday weekend to help prevent a surge in coronavirus cases, which are now expected to increase in the coming days.
Fauci also urged Americans to wear masks to prevent the spread of the virus and warned that some hard decisions are going to have to be made as the Christmas holiday nears.
"I think we are going to have to make decisions as a nation, state, city and family that we are in a very difficult time, and we're going to have to do the kinds of restrictions of things we would have liked to have done, particularly in this holiday season, because we're entering into what's really a precarious situation," he said.
The warning comes as the U.S. reaches over 13.3 million positive coronavirus cases and over 266,800 COVID-19 related deaths, according to data from Johns Hopkins University.
The surge in coronavirus cases is further compounded by an overcapacity of COVID-19 patients at hospitals and a shortage of medical staff. Fauci told NBC that he has been inundated with advice and concerns about potential lockdowns as hospital capacity issues grow.
"We've got to realize that we do have within our capability to be able to blunt that by doing the simple things that we talk about short of locking down, so we don't precipitate the necessity of locking down," Fauci said.
Experts have said the U.S. could add more than 4 million new coronavirus cases in November alone, doubling the number of cases reported in October, according to the COVID Tracking Project, CNBC reported.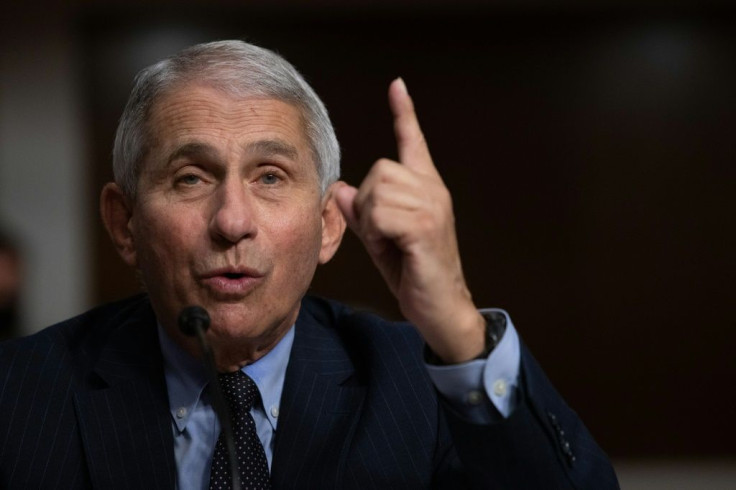 © Copyright IBTimes 2023. All rights reserved.
FOLLOW MORE IBT NEWS ON THE BELOW CHANNELS