Dylann Storm Roof, Rhodesia, South Africa And White Supremacy: South Carolina Shooter Motive Revealed In Facebook Picture?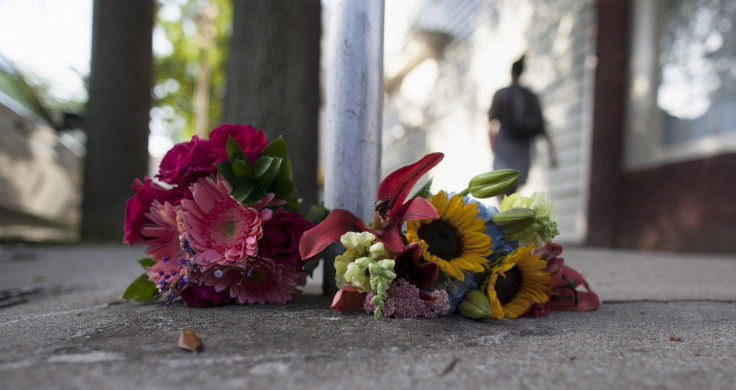 The 21-year-old suspect who allegedly opened fire in a historic black church in Charleston, South Carolina Wednesday night after praying with a church leader wore a jacket with the Rhodesia and the South African apartheid flags in his Facebook page, according to media reports. Law enforcement leaders have not identified any potential motives in the mass killing, but FBI officials said they have been searching for suspect Dylann Roof for hours.
After police released a surveillance camera photo, Roof was allegedly recognized by his uncle, who described the young man as "quiet, soft-spoken." Roof had previously been arrested for trespassing and was charged with an unspecified drug-related offense in March 2015, Reuters reported. He has been described as "slender and clean-shaven."
Roof allegedly entered the church while a Bible study meeting was taking place. After sitting with the group for about an hour, he started shooting. He reloaded five times and killed eight people inside the church. A ninth victim died later.
In 1889, Rhodes' British South Africa Company received permission from the British government to colonize what was then known as Southern Rhodesia. After the company's rule end in 1922, a white minority took control. They restricted access to land for blacks and forced many into wage labor. After a deadly civil war, the black majority eventually took charge of the country, naming it Zimbabwe.
South Africa was first colonized by Dutch Europeans who imported slaves from other parts of Africa and later subjugated South Africa's indigenous blacks. Apartheid became legal in 1948 and South Africa became independent from Great Britain in 1961. The government banned interracial marriage, and blacks were required to carry identification when entering white neighborhoods. Apartheid was repealed in 1991 after a long struggle lead by Nelson Mandela.
Some anti-blacks groups in the United States have embraced South African white supremacy leaders and their teachings in recent decades, the Southern Poverty Law Center has noted.
© Copyright IBTimes 2022. All rights reserved.
FOLLOW MORE IBT NEWS ON THE BELOW CHANNELS