Easter Sunday Storms Leave 7 Dead, State-Wide Power Outages And Destroyed Properties
KEY POINTS
The storms that hit three southern states Sunday left seven people killed, while thousands suffered power outages
Of the seven fatalities, three were residents of Jefferson Davis County and two were from Lawrence County
Walthall and Jones Counties reported one death each
Those who died in Lawrence County were identified as Robert Ainsworth and his wife, Paula Ainsworth
Robert was a Lawrence County deputy, while Paula worked as a Justice Court Deputy Clerk for the Walthall County Justice Court
With the rest of the United States still on their heels as they continue to soldier on and battle COVID-19, three southern states saw their community ravaged by menacing storms over the weekend.
The storm cluster that hit Alabama, Mississippi and Louisiana Easter Sunday surged the three states with "at least 13 radar-confirmed" tornadoes. At least seven people died, while thousands were left without power and destroyed properties, said USA Today.
Of the seven fatalities, three were residents of Jefferson Davis County and two were from Lawrence County. Walthall and Jones Counties reported one death each, according to ABC News.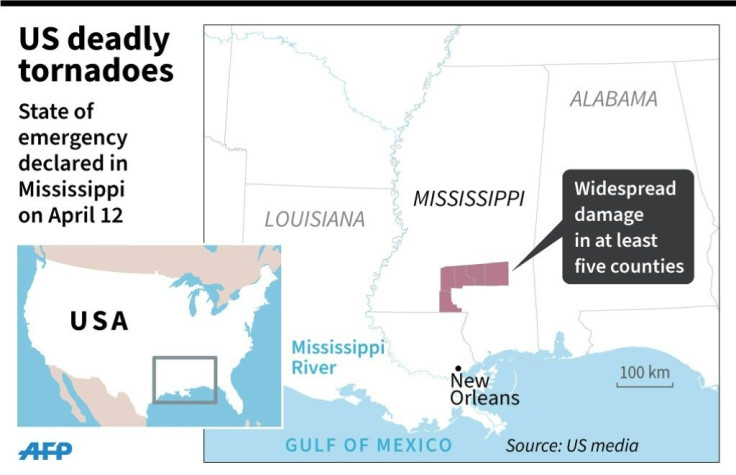 Those who died in Lawrence County were identified as Robert Ainsworth and his wife, Paula Ainsworth, added the outlet, citing a statement from the county sheriff's office.
Robert was a U.S. Marine Corps veteran and a Lawrence County deputy, while Paula worked as a Justice Court Deputy Clerk for the Walthall County Justice Court. She also served the Lawrence County Justice Court, said the Clarion Ledger.
The storm also affected Arkansas and Texas late Sunday, leaving in its wake more than 100,000 consumers without electricity in each state.
Power outages were also reported in Kentucky, Georgia, Virginia, North Carolina, Tennessee, Florida and South Carolina.
National Weather Service meteorologist Eric Carpenter told the Clarion Ledger that the tornadoes that hit the affected areas "could be" an EF-4 or EF-5 with winds reaching 160 mph or greater.
Carpenter however pointed that it won't be confirmed until experts "take a closer look" at the damage.
Mississippi also suffered gusts of rain with high winds reaching as high as 40 to 50 mph, said Carpenter, adding that some residents need to prepare for flooding as the storms leave the state.
Governor Tate Reeves took to Twitter and addressed his constituents about the catastrophe following his state of emergency declaration to protect the state's residents.
"This is not how anyone wants to celebrate Easter Sunday. As we reflect on the death and resurrection on this Easter Sunday, we have faith that we will all rise together," said Reeves.
The governor also lifted the spirits of the residents, saying that they "are not alone" and that the state and first responders are working round the clock.
"We are mobilizing all resources available to protect our people and their property," Reeves added in his social media account.
Alabama and Louisiana have also declared a state of emergency following the storms.
© Copyright IBTimes 2023. All rights reserved.