El Chapo: The 8 Most Interesting Things About Joaquin Guzman Loera, Mexico's Biggest Drug Trafficker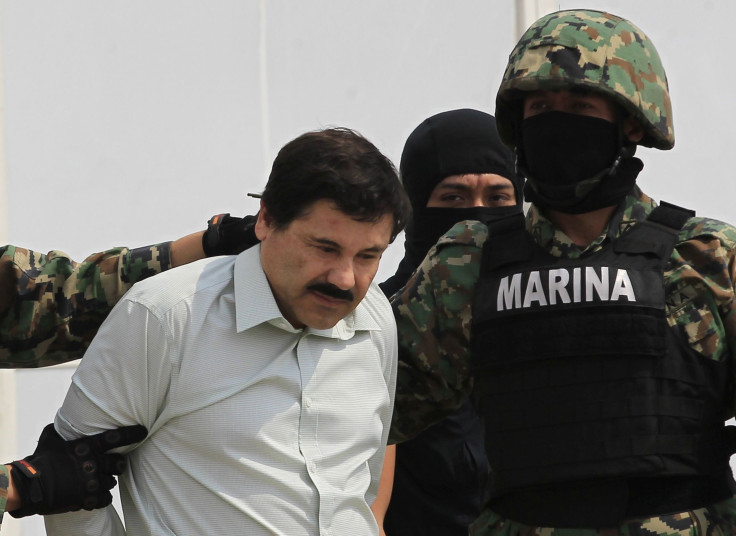 Joaquín Guzmán Loera, a.k.a. El Chapo, is one of Mexico's most notorious drug lords, and his capture on Saturday was a major victory for both Mexican and American officials fighting to curb the international drug trade.
Guzmán became something of a legend in Mexico for his eccentricities, his extravagant lifestyle and his rags-to-riches story as much as for his massive drug-smuggling activities. Here are some facts you might not know about one of the formerly most-wanted men in the world:
1. El Chapo was first ranked on the Forbes billionaires list in 2009, but dropped in 2013 because his exact wealth could not be verified. He's consistently ranked on their list of the world's most powerful people, which isn't a surprise. His cartel brings a quarter of all illegal drugs that make it into the U.S. Last year he was ranked 67th most powerful person in the world.

2. He was known to take control of restaurants for dinner, then pick up everyone's tab. In one documented event, Guzmán's bodyguards walked into Las Palmas restaurant in Colonia Las Quintas and loudly announced:

"Gentlemen, please. Give me a moment of your time. A man is going to come in, the boss. We ask that you remain in your seats; the doors will close and nobody is allowed to leave. You will also not be allowed to use your cellulars. Do not worry; if you do everything that is asked of you, nothing will happen. Continue eating and don't ask for your check. The boss will pay. Thank you."

Guzmán then walked in with 15 of his men, personally met and greeted each of the patrons and walked into a private dining room where he ate thick steaks and seafood for two hours. Then as he said he would, he covered everyone's bill and left, without fanfare.

3. He's been called the "Osama bin Laden of drug trafficking" and is known for his meticulous and brutal style of business. He's stayed out of prison by bribing officials, police and just about anyone else that could give him up to the feds.

4. El Chapo was born into a poor rural family and lived six hours away from the closest city. educated only to the 3rd grade and began selling marijuana with his father at a young age. At 15 he started selling it on his own and quickly made enough money to support his entire family. He built his mother a sprawling home in their rural hometown. She's a devout Catholic and "the only one who can change one of his decisions with a word."

5. Guzmán spent 1993 to 2001 in a Mexican maximum-security prison before escaping, but his stint was nothing like those of his fellow inmates. He brought in cocaine and women, turning the prison into a "five-star hotel."
Just how he escaped from prison is debated, but the most interesting story is that he hid in a laundry cart that was wheeled out of the prison, before escaping the grounds in the trunk of a car driven by a security guard. The whole thing was planned through bribes and intimidation, and the $2.5 million escape involved up to 78 accomplices.

6. He is the first man to be named "Public Enemy No. 1" in Chicago since Al Capone. His cartel transports upwards of 4,000 pounds of cocaine into Chicago every month, where it makes its way across the U.S.

7. Guzmán is responsible for at least 62 drug tunnels that police have found running under the U.S.-Mexico border.

8. El Chapo's Sinaloa cartel was one of the targets of the ATF's infamous "Operation Fast and Furious" campaign in which U.S. agents sold automatic weapons to Mexican cartels in the hope of tracking them to drug lords for arrest.
© Copyright IBTimes 2023. All rights reserved.
FOLLOW MORE IBT NEWS ON THE BELOW CHANNELS