El Paso Community Helps Migrants Stay Warm Amid Freezing Temperatures And Border Crisis
The winter storm wreaking havoc across the United States is also affecting El Paso, the Texas border town currently facing an influx of migrants who have yet to turn themselves into border agents after crossing the U.S.-Mexico border.
El Paso declared a state of emergency last Saturday after a surge of migrants recently arrived in droves, prompting many not to have access to shelter.
The city has opened government-run shelters at its convention center, hotels, and several new schools, but is unable to accept migrants who do not have documentation from Customs and Border Protection, said El Paso city spokesperson Laura Cruz Acosta to CNN.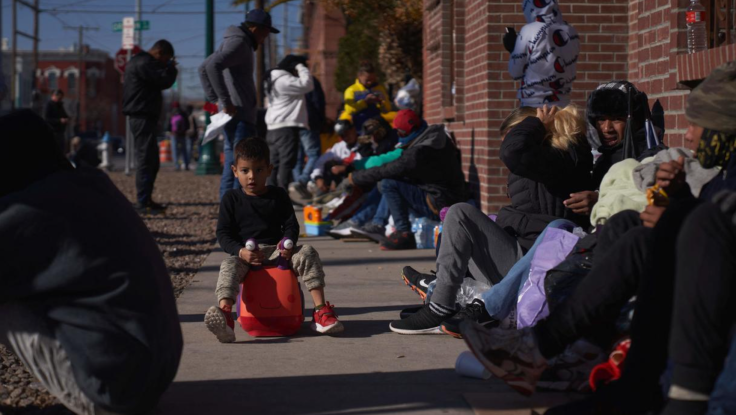 U.S. Border Patrol warned migrants about the dangerous weather Friday on Twitter, "Extremely cold, below freezing temperatures are expected along the Mexico and United States border during the next several days," said Hugo Carmona, Acting Associate Chief of US Border Patrol Operations.
"Do not risk your life and that of your loved ones trying to cross the river or the desert. Help avoid human death and tragedy, stay home or remain in a safe shelter. This is a warning of extreme importance."
Despite the city authorities being unable to accept migrants without documentation into their shelters, other members of the El Paso community have opened their doors to protect undocumented migrants from the freezing weather.
The Sacred Heart Church has opened its doors to migrants like David Carrero, from Venezuela, who said the church welcomed his wife and baby boy to stay. "They've supported us and given us food, and people have dropped off food, clothes, and toys for the children," Carrero told NPR.
Officials from the Sacred Heart Church said their standard capacity is 130, but they are expanding to 200 for the next four nights and are prioritizing women and children. However, they did sadly note, that hundreds of people are still stuck in the freezing temperatures while they continue to wait outside the church.
El Paso residents have also passed out gallons of coffee, more than a thousand sandwiches, beanies, scarves, and gloves at bus stations this past week to help undocumented migrants survive the frigid weather.
"For Christmas every year, we like to sponsor a family," said Adam Amezaga, a resident who volunteered to help with his wife and two daughters.
John Martin, deputy director of the Opportunity Center for the Homeless, told CNN he had asked the city's emergency department to open the convention center to undocumented migrants for at least the next two days. Still, it has been unsuccessful, he said.
According to Martin, more than 290 men slept at a men's shelter run by his organization, for the Homeless Wednesday evening, despite the space being only able to fit 125 people.
"We are literally having to close our doors tonight," he said. "We just can't fit anyone in."
"My biggest fear is somebody is not going to wake up tomorrow morning," Martin told CNN. "I hope that I am absolutely wrong."
© Copyright IBTimes 2023. All rights reserved.