Election 2016 Immigration: Jeb Bush Slams Donald Trump's Border Wall Proposal, Seeks To Walk Back 'Anchor Baby' Comments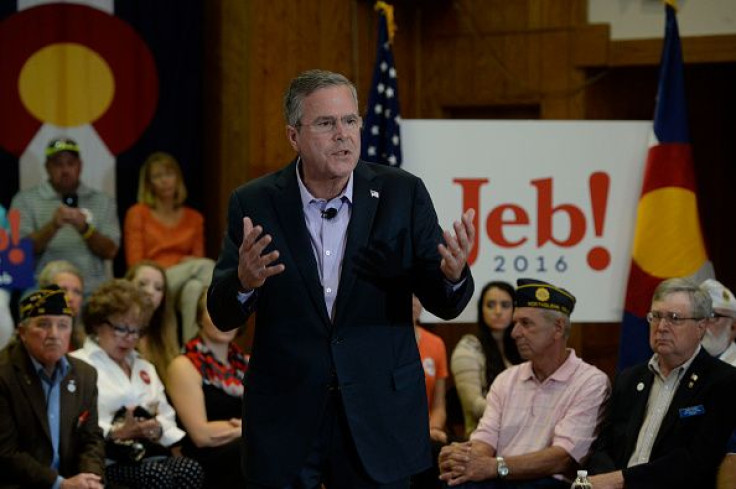 ENGLEWOOD, COLORADO -- Taking on the man who has replaced him as the Republican presidential front-runner, Jeb Bush rejected Donald Trump's proposal to construct a high-security wall along the U.S. border with Mexico. Speaking at a town hall in a Denver VFW hall Tuesday, Bush said his visit earlier this week to the southern border in Texas confirmed his view a wall would not stop the flow of undocumented immigrants.
"I went down to McAllen to talk to elected officials down there, and before I even asked a question -- what's the status of the border, how things are going -- to a person, they all said you can't build a wall and solve this," he told the roughly 120 people in attendance.
Bush's brother, President George W. Bush, signed legislation in 2006 authorizing the construction of a border fence. Of more recent proposals to build a wall -- like Trump's -- Jeb Bush said: "The cost of it is extraordinary, the terrain makes it impossible -- it's a great sound bite, but it's not defensible in terms of a practical policy."
The former Florida governor said Trump's immigration proposals were an effort to "round people up" for deportation, adding such an initiative will "disrupt community life."
"The problem with the Trump plan is it's not a conservative plan and it's not practical. It would cost hundreds of billions of dollars," Bush said. "It doesn't embrace American values."
Trump, a billionaire real estate mogul now leading in Republican presidential polls, has proposed forcing Mexico to pay for a "permanent border wall" and the deportation of undocumented immigrants detained at the border. He also wants to end automatic citizenship rights for children born in the United States to parents who are undocumented immigrants -- commonly called birthright citizenship.
Immigration was a hot topic at Bush's event in Colorado -- a battleground state where 21 percent of the population is Latino and where immigration debates have long roiled local politics. For years, the state's highest profile federal lawmaker was longtime Republican U.S. Rep. Tom Tancredo -- a conservative firebrand who ran for president in 2008 on a platform opposing more liberalized immigration policies.
Last week, amid an intensifying debate over birthright citizenship, Bush called for increased enforcement of immigration laws "so that you don't have these, you know, 'anchor babies,' as they're described, coming into the country."
While he initially defended using the controversial term "anchor babies," the former Florida governor asserted Monday the phrase is "more related to Asian people."
When asked about his comments at the town hall in Englewood, Bush said he supports birthright citizenship and said that, in making reference to "anchor babies," he was not trying to demonize immigrants.
"I was talking about a very narrow casted system of fraud where people are bringing pregnant women in to have babies to get birthright citizenship," he said.
The former Florida governor also touted his personal relationship with immigrant communities and his marriage to his wife, Columba, who is Mexican-American.
"It's going to be real hard for me to get lectured to by anybody about the politics of immigration," Bush said.
© Copyright IBTimes 2022. All rights reserved.
FOLLOW MORE IBT NEWS ON THE BELOW CHANNELS