Election 2016: Jeb Bush, Marco Rubio Lag In Florida Polls Behind Ben Carson, Donald Trump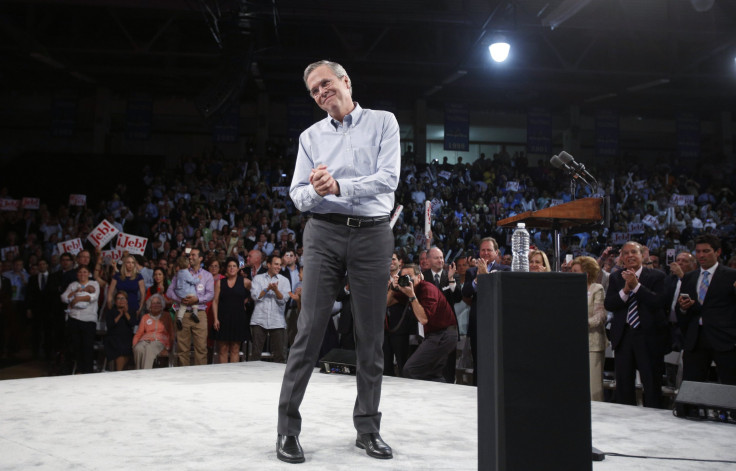 Floridians seem to be losing faith in their junior U.S. senator, Marco Rubio, and ex-governor, Jeb Bush. According to a poll released Tuesday, many voters in their home state think the two should give up on the 2016 presidential race.
In the key state of Florida, the largest swing state in the nation, 47 percent of all voters think Bush should stop campaigning and 48 percent of voters said Rubio should call it off. The poll, conducted by the left-leaning Public Policy Polling, did find more support from Republicans for the two to continue campaigning — 52 percent of Republican voters in Florida said Bush should keep campaigning while 62 percent said Rubio should continue, as well.
The poll shows that Donald Trump and Ben Carson lead in Florida, as they have in other states and nationwide. Trump leads with 28 percent and Carson comes in second at 17 percent. Bush is third in his own state at 13 percent and Rubio is at 10 percent.
Despite coming in fourth, Rubio is the best-liked Republican candidate in Florida. The poll showed that 73 percent of people viewed him favorably while 20 percent viewed him unfavorably. While Trump is first in the Florida polls, only 56 percent had a favorable opinion, while 35 percent were unfavorable.
The polling numbers come a day ahead of the second GOP presidential primary debate. The 17 GOP candidates will debate for the second time starting at 8 p.m. EDT Wednesday on CNN. Other recent polls show that Trump is still the front-runner nationally. Trump remains first in the national polls at 27 percent, while Carson is close behind at 23 percent.
Bush's support nationally has only dwindled since August, down to 6 percent backing among Republican primary voters. After the first debate on Fox News in August, it was argued by some that Carson was the clear winner. Some who watched the debate said Carson's jokes and comments on race went over well with the audience.
© Copyright IBTimes 2023. All rights reserved.
FOLLOW MORE IBT NEWS ON THE BELOW CHANNELS