Election 2016 Political Ads: Xaxis Will Target Voters Using Their Digital And Real-Life Data
The world's largest automated digital advertising firm has partnered with a company that claims to have the personal and political opinions of 166 million Americans so it can serve U.S. voters political ads with "laser-like" accuracy. Xaxis, a programmatic ad technology firm owned by Wire and Plastic Products (WPP), the world's largest advertising firm, said on Monday that it has integrated voter information from HaystaqDNA, a predictive analytics startup, for new division called Xaxis Politics.
"We're opening up an entirely new level of sophistication for political marketers," Xaxis CEO Brian Gleason said in a statement. "Voter data is the lifeblood of political advertising."
That lifeblood is about to infuse the fastest-growing segment of the political advertising industrial complex: digital advertising. After Republicans and Democrats mostly tossed the crumbs of their advertising budgets at digital ads in 2008 and 2012, digital spending will become a big piece of the pie. More than $1 billion will be spent on digital advertising during the 2016 campaign, according to the media firm Borrell Associates, up from just $158 million spent in 2012.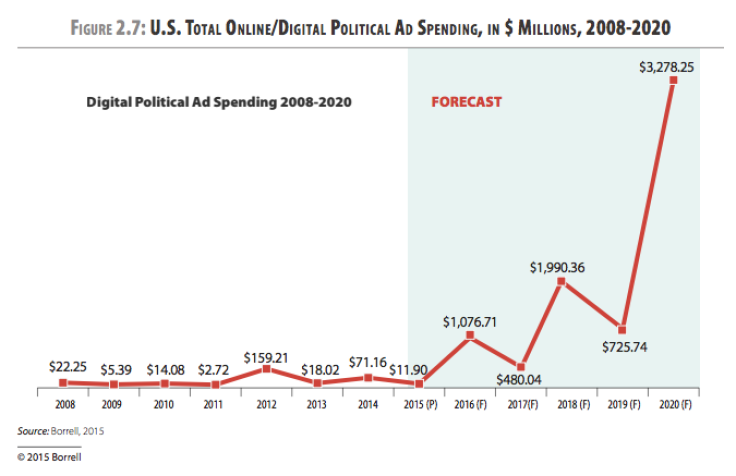 That huge increase can be attributed mainly to the increasing sophistication of digital advertising, which can now be used to serve people ads based not just on the sites they visit but on their age, gender, physical location, Internet search and browsing history, past purchases and a host of other determining factors. Xaxis, like other companies in this space, insists that the data is anonymized.
Thanks to the rise of real-time, automated bidding, which is sometimes referred to in the ad industry as "programmatic" advertising, those insights can be leveraged in real-time. Today, a marketer can send ads to very specific swaths of the population almost instantaneously, which is an enticing opportunity for campaign managers who may want to pounce on opponent miscues within minutes.
Yet, for all that speed and precision, that patchwork of digital information was not easily sewn together with intelligence marketers and advertisers gathered from the real world. Moves like Xaxis Politics show more and more companies are beginning to seek ways of merging those two disparate piles of information. Earlier this year, a company called Placed announced that it would offer information about people who set foot inside certain businesses, like McDonald's, Starbucks or Subway, providing an additional layer of information to target digital advertisements in real time.
The information Haystaq has is concentrated more on voters' political opinions and affiliations. The firm, which helped President Barack Obama rally to win his first presidential election in 2008, claims to have information about what voters think of issues like abortion and gun control. Its previous clients have included CBS, the NFL and the New York Police Department.
"Now it is easy for online campaigns to target the right voters," Haystaq CEO Ken Strasma said in a statement. "Political marketers have come to expect the accuracy of individual-level targeting models for direct mail, phones and door-to-door canvasing."
© Copyright IBTimes 2023. All rights reserved.