Election 2016: Rand Paul Inherits Father Ron Paul's Political Network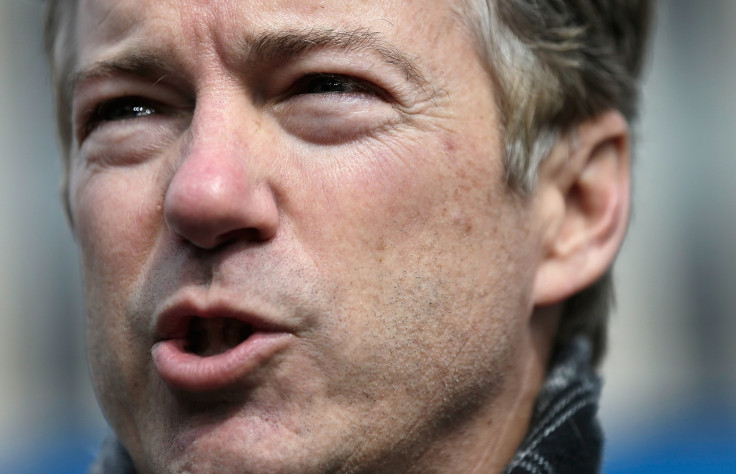 WASHINGTON -- Rand Paul's campaign slogan is "Defeat the Washington machine." The Kentucky senator is running as an outsider, but even in this legacy-laden field, he may be the ultimate insider.
It's been less than three years -- not even one full presidential election cycle -- since former Rep. Ron Paul gave up his last presidential campaign, his third run for the White House. Now his son is set to make his own run. Rand Paul begins the daunting task of building a presidential campaign with unique advantages: the network his father built, the experience of running a modern campaign and the potential to tap into a loyal base of supporters. He enjoys name recognition that rivals that of his likely opponents. Rand Paul will seek to position himself as his own candidate and bring in some of his own political team. But the foundation of his father's campaign is intact-- for better and for worse.
While Ron Paul was never able to translate his core of supporters -- more than a million votes -- into primary victories, he ran well in several states and remained in the race longer than many GOP competitors. He even placed second in New Hampshire in 2012, with 23 percent of the vote.
"If he can inherit his father's network up here, that will be at least a significant initial advantage," University of New Hampshire political science Professor Dante Scala said. "A crowded field might be good for Rand Paul. Maybe this will be a year like 1996, where 30 percent is enough to do not just well but really well in New Hampshire." (Pat Buchanan won the state's primary that year, with around 27 percent of the vote.)
While Jeb Bush and Hillary Clinton are widely seen as dynastic candidates, Rand Paul is actually the only one who'll inherit an up-to-date campaign operation. It's been 15 years since a Bush appeared on a ballot -- before Facebook or Twitter, before donations could be made via website, before candidates posted YouTube videos.
Paul doesn't get just an extensive network. There is family knowledge that comes with the campaign. Jesse Benton -- who is married to Rand Paul's sister -- was a senior adviser for Ron Paul's two previous presidential runs, managed Rand Paul's Senate campaign and will now run a super PAC supporting the 2016 campaign.
Ron Paul pursued a smart strategy by targeting states that held caucuses instead of or in addition to a primary. Aside from Iowa, which draws disproportionate attention as the first presidential test, most states that opt to use that process have very low turnout. Voters are required to attend a meeting at a specific time and place, driving down the number of participants and allowing a small but passionate group to tip the outcome.
Rick Santorum won the Iowa caucus in January 2012. Hardly anyone remembers that Ron Paul won the second, less publicized Iowa caucus, giving him more delegates from the state than any other Republican -- a testament to his organizational power. He did the same in Louisiana and Nevada, picking up delegates at later caucus events after not winning on the main primary day.
The Republican field is unlikely to produce another candidate who appeals to the Ron Paul fan base. He built a coalition of voters who didn't traditionally participate in GOP primaries. It's unlikely that Bush or Ted Cruz or Marco Rubio could make strong inroads with those voters. "Add in any number of other possible candidates, and I don't see any having a better 'claim' on the Ron Paul vote than Rand Paul," said Eric Herzik, the chair of the political science department at the University of Nevada, Reno. "Rand Paul might not be a clear favorite in Nevada, but he will, like his father, have a base from which to build his campaign."
Ron Paul was virtually an isolationist who opposed foreign aid to almost every nation, wanted to drastically cut defense spending, and was one of only a handful of Republicans to vote against the war in Iraq. Rand Paul is the least hawkish Republican in the Senate, but he has tried to shed the isolationist label; he supports some foreign aid and hasn't fought funding the Pentagon. But he's still out of step with his party. South Carolina Sen. Lindsey Graham has been outspoken in criticizing Rand Paul's foreign policy positions.
Rand Paul will have to be strategic in how closely he hews to his father's policies. Embrace Ron Paul's positions completely, and risk losing mainstream voters -- the problem his father could never overcome. Distance himself too far, and lose the energetic supporters.
"For Ron Paul voters, that adherence to principle is especially important," Scala said. "They would like to think Rand Paul can signal the taking over of the Republican Party, but they're not going to be especially happy if Rand Paul represents the compromising of Libertarian principles, his father's principles, in the service of his own political ambition."
© Copyright IBTimes 2023. All rights reserved.