Election 2020: Trump Tweets Democratic States Are 'Going To Hell'
KEY POINTS
Trump fired off a series of tweets disparaging Democratic-run states
He said California, Illinois, and New York are "going to hell"
The tweets come amid new polls showing him trailing Democrat Joe Biden
President Donald Trump fired off another barrage of angry tweets Monday, saying several states run by Democrats are "going to hell."
In a trio of tweets, Trump singled out California, Illinois, and New York as deplorable. Together, these three states account for 20% of the U.S. population. The Democratic Party controls each state government and the largest cities within them.
Trump has frequently criticized California Governor Gavin Newsom. The president's latest tweet is likely a reference to the wildfires that have torched nearly 4% of the state's land and killed 31 residents since it emerged in early summer, The Independent reported.
Trump also included New York, the state where he gained his fame as a real estate magnate. The president has repeatedly locked horns with the state's governor, Andrew Cuomo, whom he claimed caused people to flee New York.
It is unclear what prompted Trump to include Illinois in his tweets, although he has previously suggested that Chicago's strict gun laws and "black on black" crimes are more of a concern than the systemic racism in law enforcement.
In June, Trump sent a letter to Illinois Governor J.B. Pritzker. He criticized Chicago city's gun crime and insinuated the governor's inability to lead caused the city's problems to worsen. He then offered to help Pritzker solve the issues if he would "put partisanship aside."
"If you are willing to put partisanship aside, we can revitalize distressed neighborhoods in Chicago, together. But to succeed, you must establish law and order. The combination of crime, high State and local taxes, and onerous state and local government regulations have caused thousands of Illinoisans to flee to other States," Trump wrote.
Trump's trio of tweets follows previous moves to divide the nation in terms of political ideology. In early September, he said Democratic-run states have "tremendous coronavirus death rates." He claimed without the blue states, "we're at a level that I don't think anybody in the world would be at," he said at a coronavirus task force briefing.
Since the killing of George Floyd by Minneapolis police, Trump has shifted his focus to preserving "law and order" and promoted claims about the rising crime rates. On June 24, he said 20 of the most dangerous cities are found within blue states.
"You hear about certain places like Chicago and you hear about what's going on in Detroit and other — other cities, all Democrat-run," Trump said. "Every one of them is Democrat-run. Twenty out of 20. The 20 worst, the 20 most dangerous are Democrat-run."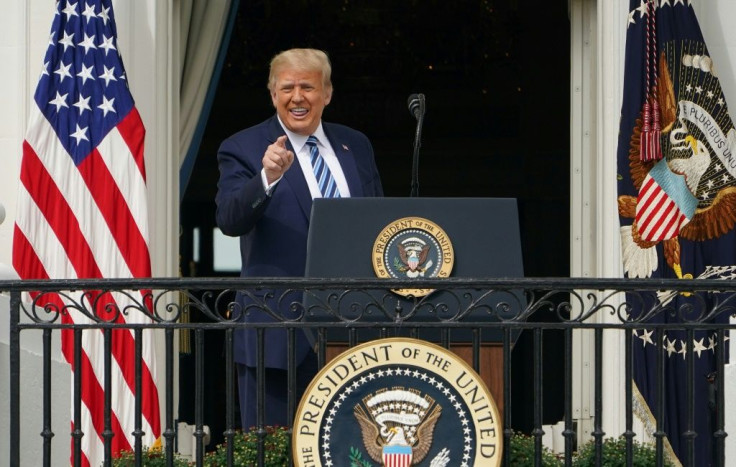 © Copyright IBTimes 2023. All rights reserved.
FOLLOW MORE IBT NEWS ON THE BELOW CHANNELS