Electric Daisy Carnival Set To Be New Coachella? Big Names Line Up To Buy Dance Promoter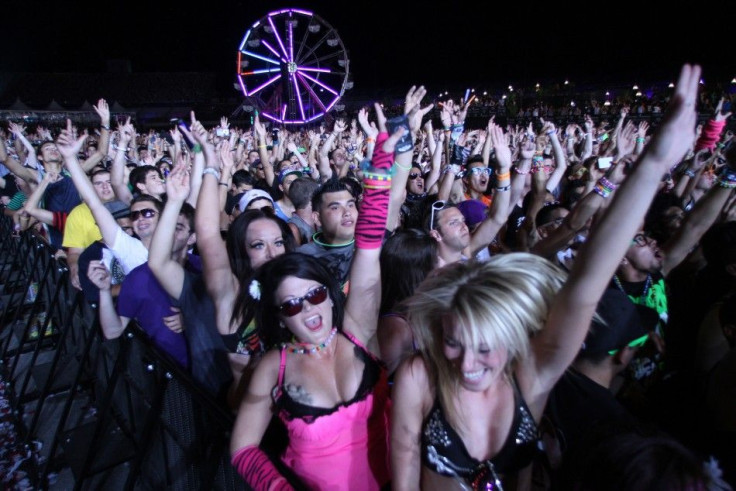 Electric Daisy Carnival has already expanded from its Los Angeles origins into New York, Dallas, Las Vegas and Puerto Rico -- but it could take an even bigger step in 2013. Some of the biggest names in the music industry are lining up to buy the festival's promoter, Insomniac Events.
Electronic Dance Music (EDM) has already gained a foothold in the mainstream consciousness with some big name producers gaining crossover fame and appeal. Big name dance producers are no longer nameless hitmakers to true pop stars. Names like Avicii, David Guetta and Skrillex are selling albums, getting top billing at festivals and are being nominated for Grammy awards. Swedish House Mafia headlined Madison Square Garden and other acts are following that lead, including Tiesto headling Staples Center and Armin van Buuren also set to headline MSG in March. EDM is no longer a niche music genre and large events, such as Electric Daisy Carnival, Ultra Music Festival in Miami or Electric Zoo in New York, can bring hundreds of thousands of fans to a single location to watch the biggest EDM acts around.
Last year's EDC in Las Vegas brought 320,000 visitors to the Las Vegas Motor Speedway for the three-day event, according to a statement released by Insomniac Events. While that's a lot of tickets, and a lot of money going to the promoter and artists, the place where the event is being held is also a big winner. EDC brought $207 million to Clark County, where the Las Vegas Motor Speedway is located, according to Insomniac. Nearly $30 million went to accommodations and close to $20 million in food was generated by EDC festival-goers.
Electronic festivals are big money events and have become embraced by America. Europe has always had the biggest electronic festivals but with such big events as EDC or Ultra, America is becoming as synonymous with EDM as Ibiza. With the further expansion of EDC to Chicago in 2013, Insomniac is poised for yet another big year and some music industry titans are looking to cash in on the craze.
Live Nation Entertainment and SFX Productions, owned by Robert F.X. Sillerman, are just two companies looking to buy Insomniac according to the New York Times. While AEG Live is also looking into the company, some media reports indicated that Live Nation and SFX are the two who are in the lead.
The sale of Insomniac could fetch up to $100 million, according to anonymous sources with knowledge of the ongoing negotiations, the newspaper reported.
The talks are preliminary and Insomniac, founded by Pasquale Rotella, may want to remain independent considering the incredible success of EDC. With the backing of Live Nation, EDC could expand even further and become as much a part of the mainstream festival consciousness as Coachella, Bonnaroo or Lollapalooza. EDC Las Vegas already generates ticket sales that rival those festivals and it is seems, based on current trends, that it is only a matter of time before EDM and electronic festivals get as much national attention as traditional music festivals.
© Copyright IBTimes 2023. All rights reserved.