Eminem Slams Donald Trump On New Big Sean Song 'No Favors'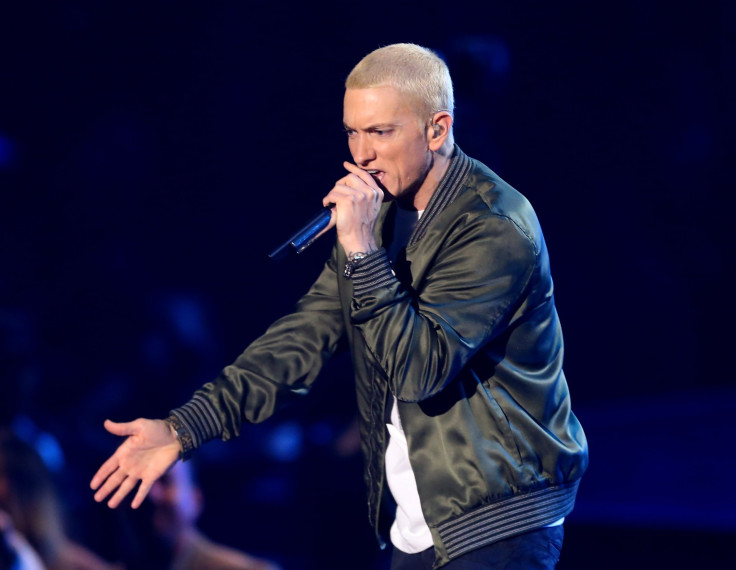 Eminem is no stranger to picking fights with United States presidents, previously rapping about Bill Clinton and George W. Bush. The Detroit rapper's latest target is President Donald Trump.
The "Rap God" artist teamed up with Big Sean on his new album "I Decided" for the song "No Favors" and had a few words for Trump. Letting listeners know he's against the president, Eminem raps: "I'm anti, can't no government handle a commando / Trump's a bitch / I'll make his whole plan go under."
It's not Eminem's first time calling out Trump. In October, the rapper released a nearly eight-minute freestyle called "Campaign Speech" where he took shots at Trump and his supporters.
"Run the faucet, I'ma dunk a bunch of Trump supporters underwater / Snuck up on 'em in Ray-Bans in a gray van with a spray tan / It's a wrap, like an ACE bandage." The rapper also added, "Consider me a dangerous man / But you should be afraid of this dang candidate" and called Trump a "loose cannon who's blunt with his hand on the button."
Since the release of Big Sean's album on Friday, hip-hop fans have been going crazy over Eminem's verse, and Big Sean shares their same feelings. During an interview with Beats 1 Radio, Sean recalled hearing Eminem's "No Favors" verse and saying, "wow."
The rapper told Zane Lowe of Beats 1 Radio, "Eminem was the only person I heard that could be on that song. It reminded me of why I am such an Eminem fan. It reminded me of why I fell in love with Eminem's work. He's unique. He's special. When I first heard him, I feel like he was bringing new flows to the game."
It's uncertain when Eminem's next project will release but the rapper did reveal that he was working on a new album. "Don't worry I'm working on an album!" he tweeted in October.
© Copyright IBTimes 2023. All rights reserved.