'Empire' Season 2 Spoilers: 6 Things To Look Forward To When The Fox Drama Returns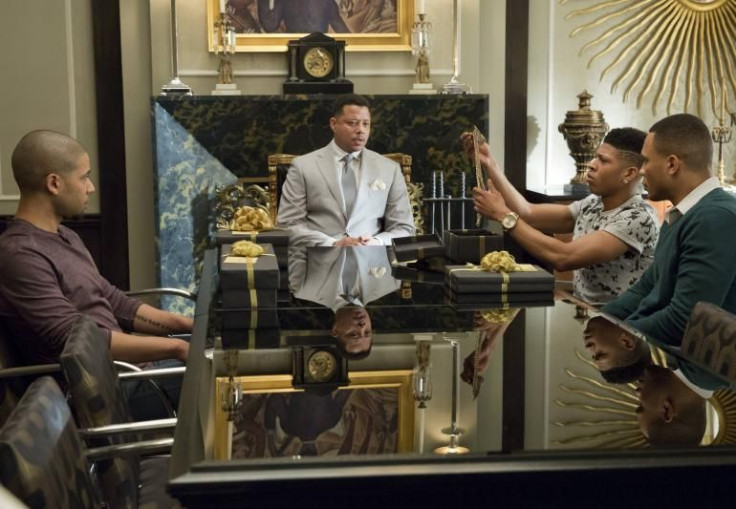 Say it ain't so! After 12 drama-filled episodes, Season 1 of "Empire" concluded on Wednesday night. The two-hour event was action packed with big reveals, a shocking death and jaw dropping arrest – and Season 2 of the Fox series is only going to get more intense.
For those that missed the season finale, Lucious (Terrence Howard) learned that he didn't have ALS and wasn't dying. He was diagnosed with Myasthenia Gravis, a chronic but highly treatable autoimmune neuromuscular disorder. The diagnosis gave him a new outlook on life, but his past threatened to take him down one way or another. After appointing Jamal (Jussie Smollett) as the future of Empire, Hakeem (Bryshere Y. Gray) and Andre (Trai Byers) plotted a hostile takeover with Cookie (Taraji P. Henson) and Anika (Grace Gealey). By the end of the episode, Lucious was arrested for Bunkie's (Antoine McKay) murder … but Vernon (Malik Yoba), the star witness against him, was missing. Andre's wife, Rhonda (Kaitlin Doubleday) had accidentally killed him after she found him attacking her husband. The pair decided to keep his death a secret after Rhonda revealed that she was pregnant.
So, what's next for the Lyon family now that their empire is crumbling? We've rounded up 6 things fans can look forward to when Season 2 returns to Fox:
1. Conflict
Lucious is definitely a spiteful man. Some fans thought that he wasn't going to name a successor to Empire after finding out that he wasn't dying, but Lucious surprised everyone by giving Jamal the keys to the castle. However, his decision caused some major conflict, and executive producer Danny Strong dished to the Hollywood Reporter that the conflict will continue into Season 2.
2. Oprah And Common
Season 1 of "Empire" had some major star power with guest appearances by Snoop Dogg, Jennifer Hudson, Patti LaBelle, Rita Ora and more. Season 2 is already set to feature some big names as well. Series co-creator Lee Daniels confirmed to Access Hollywood that both Oprah and Common will be guest starring next season.
3. Jamal's Role
Strong hinted to the Hollywood Reporter that Jamal's career as an artist might be put on the backburner as he takes more charge in the business aspect of Empire.
4. The Return Of "Empire"
When will the hit Fox series return? Unfortunately those details are still being worked out. Speculation is that the show will receive a higher episode order for its second season and return "late fall." Executive producer Ilene Chaiken told Variety that the writers will begin meeting next month to discuss future story lines.
5. More Music
The original music on "Empire" isn't going anywhere. Chaiken revealed that music will continue to be an "added layer" on the show, and that Season 2 will feature a "slightly more robust (music) team."
6. A Clean Slate
Where is "Empire" headed in Season 2? Despite the few "spoilers" that have been released, Daniels told Deadline Hollywood that the process for next season "is literally just beginning." "We only have vague notions for next season," he explained.
What would you like to see in Season 2 of "Empire"? Tweet your thoughts to @AmandaTVScoop.
© Copyright IBTimes 2022. All rights reserved.
FOLLOW MORE IBT NEWS ON THE BELOW CHANNELS