'Empire' Season 1 Spoilers: A New Diagnosis, Murder And Arrest; Top 11 Moments From The Finale [RECAP]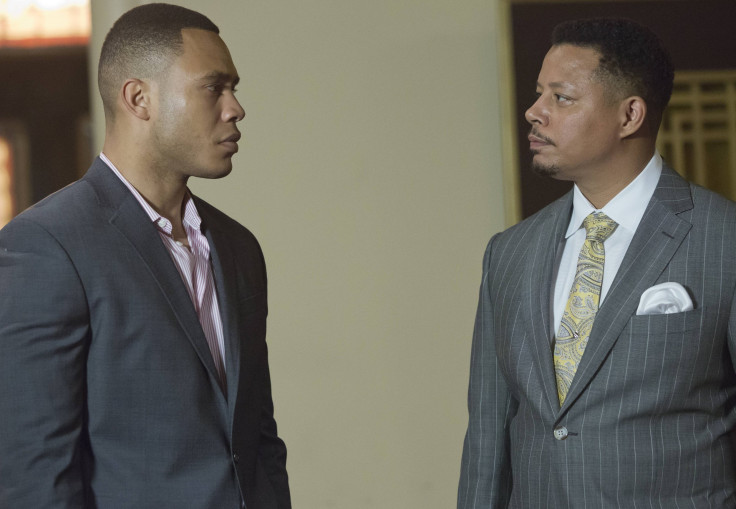 Season 1 of "Empire" went out with a bang Wednesday night. Between sick beats, big name guest stars and jaw-dropping drama, the two-hour Fox event was not to be missed. But for those that didn't get a chance to catch the season finale, we've rounded up the top 11 moments from episodes 11 and 12:
1. Seeing Double
All season "Empire" has focused on Lucious' (Terrence Howard) ALS diagnosis and which one of his sons he would pass the company onto. At the beginning of the finale, Lucious began suffering from double vision … but it was revealed that double vision is not a symptom associated with ALS.
2. Hakeem's Revenge
Hakeem (Bryshere Y. Gray) joined Snoop Dogg on stage for his album launch party, and no one expected him to use the opportunity to verbally take a swing at his father. "That fool can't even keep his family together," Hakeem rapped. "I'm the prince. I'm a run the empire and leave with your b---h. I'm gone."
Hakeem left the stage just as quickly as he walked on, but Lucious wasn't going to just let him leave on that note. He punched his son in the face when he turned around. Hakeem still had one more surprise up his sleeve though. He revealed to his brother that he was going to another label with his album because he never signed a contract.
3. Adios, Cookie
Lucious was suffering from some serious writer's block and needed Cookie (Taraji P. Henson) to help him break it. Unfortunately Cookie was unavailable. She spent the weekend with Malcolm (Derek Luke), and needless to say Lucious was not too pleased when he found out. He kicked Cookie out of Empire, revealing that she was never on the board of directors because she was a convicted felon.
The twist was that he didn't fire Malcolm. But Malcolm wasn't interested in staying at the company if Cookie was gone. He asked her to go to D.C. with him, and there he was offered a high-position government job. Cookie couldn't leave Empire though.
4. Jamal's Task
Andre (Trai Byers) finally figured out that he was never going to get his hands on Empire and threatened to quit as CFO. Lucious went to Jamal (Jussie Smollett) and told him that he was the future of the company -- but he had to do one thing first. After helping Lucious with his writer's block and getting him to agree to let Cookie back on board, Jamal was tasked with going to Beretti (Judd Nelson) and getting Lucious' music back.
5. Lucious' New Diagnosis
Turns out that Lucious doesn't have ALS. A doctor diagnosed him with Myasthenia Gravis, a chronic but highly treatable autoimmune neuromuscular disorder.
6. Ghosts Of Lucious' Past
High on some awesome sleeping pills, Lucious admitted out loud that he killed Bunkie (Antoine McKay). Cookie heard everything -- including that he wasn't dying. Upset that he was responsible for Bunkie's death, Cookie tried to smother him with a pillow. Lucious was conscious enough to stop her, and Cookie got spooked and ran.
7. Gifts For Everyone
With his second chance at life, Lucious apologized to his family and brought everyone gifts. Hakeem received his own jet to tour with, and Lucious promised that he would stop trying to control him. Lucious started up the Lyon Foundation for Andre, and promised to give him $100 million for his disposal after the IPO closes. As for Jamal? He was handed the empire. But it was Cookie who got the best gift … a small pillow.
Lucious pulled Jamal aside and revealed that despite what he said, his mother wouldn't be allowed back in the company. He then played the video footage of Cookie trying to kill him. Cookie wasn't going to let Lucious ruin her image in front of her son. "Your father killed Bunkie," she yelled before getting escorted out of the building.
8. Cookie The Snitch?
While Lucious thought he was getting a second chance at life, what he didn't realize was that outside forces were getting ready to take him down. A special agent brought Cookie to the station to ask about someone named Shine Johnson. Shine was trying to cut a deal, and told the authorities that Lucious was the one that killed Buckie.
They needed Cookie's help and knew that she wanted to see him go down. But Cookie wasn't willing to cooperate. "Find yourself another snitch," she warned them. "I fulfilled my obligation with you."
9. Hostile Takeover
Anika (Grace Gealey) wasn't just hooking up with Hakeem -- she was plotting with him. While he was initially just going to sit back while Jamal took the throne, Anika convinced him to play it cool and do a hostile takeover of the company. They got Andre and Cookie involved … after she got in a little throw down with Anika.
The group went to see a guy called Tony Trichter (Dan Flannery). He agreed to help them with the hostile takeover if they released his grandson's rap album. Even though it was bad, they played along. Trichter said that they would need $500 million to buy a majority of the company, but that still wouldn't be enough. They needed to nail the CEO with a "good scandal." Tricky agreed to pay up $250 million, and the others agreed to get their hands on the rest.
10. RIP Vernon
Vernon went to pay Andre a visit, and things quickly turned sour. Despite Vernon's best efforts to just talk to Andre, the pair engaged in a physical fight. Rhonda (Kaitlin Doubleday), who walked out on Andre earlier in the episode, returned home to find Vernon beating her husband. When Vernon wouldn't get off, Rhonda knocked him in the head with a stick.
The two were horrified to find Vernon dead, but Rhonda wouldn't let Vernon call the cops. She revealed that she was pregnant.
11. Lucious' Arrest
Lucious was arrested for Bunkie's murder at his party and immediately placed the blame on Cookie. The twist was that the police were missing their star witness … Vernon.
What do you think was the biggest jaw-dropper of the "Empire" Season 1 finale? Tweet your thoughts to @AmandaTVScoop.
© Copyright IBTimes 2023. All rights reserved.