'Empire' Season 2 Spoilers: Episode 16 May Have Revealed Who Pushed Rhonda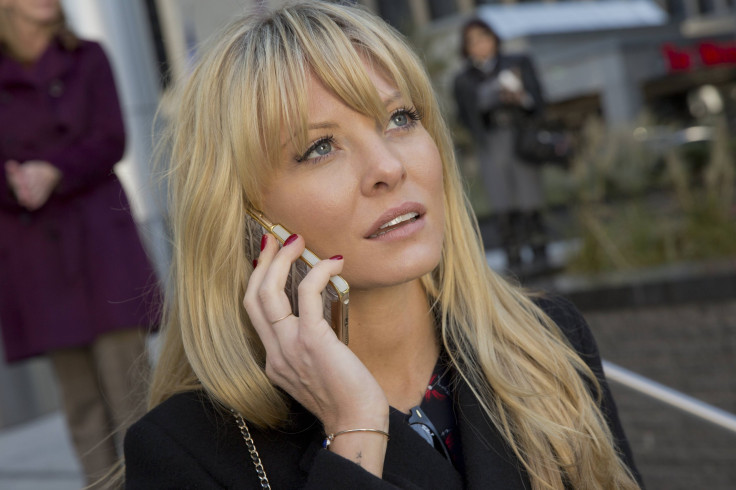 One of the biggest questions left to be answered on Fox's "Empire" Season 2 is who pushed Rhonda down the stairs? Fans have been speculating about who could have been the one to commit the horrible act and episode 16 may have dropped some major hints.
Up until Wednesday's episode, Rhonda (Kaitlin Doubleday) thought she fell down the stairs on her own following the traumatic event which lead to her losing her and Andre's (Trai Byers) baby. However, she had a flashback to the night she was pushed in episode 16 and she remembered there was someone else in the house when she tumbled. She also recalled feeling someone shove her from behind.
While Rhonda lay at the bottom of the steps injured following the fall, a person stepped over her body to walk out the front door of her home. Rhonda was dazed, but looked up to see flats with a red sole. Rhonda was sitting with Anika (Grace Gealey) in episode 16 when Anika crossed her legs and Rhonda looked and saw the same shoes she remembered. Does this mean that Anika is the perpetrator?
"Empire" executive producer Sanaa Hamri told TVLine that Anika is "is a very intricate character" on the show. Hamri, who also directed the Season 2 finale, said Anika has "so much up her sleeve" and fans will enjoy the last few episodes. However, she also said not to jump to conclusions that Anika pushed Rhonda.
"The storylines are so twisted and intricate and well thought-out by [showrunner] Ilene Chaiken that we were able to, in directing these scenes, bring out the truth of the situations. We're going to find out a lot of things, and they're not what you'd expect," Hamri dished.
Doubleday has also made it known that fans might not want to be all-in on one suspect. In an interview with TVGuide in March, Doubleday said the identity of the person who shoved Rhonda would be revealed in the Season 2 finale. She also warned that episodes leading up to the finale would make it appear as though a certain person did it, but there could be a twist. In the finale, Rhonda is going to confront her pusher in a "crazy, insane way."
In recent episodes, Anika seems to be less unhinged than she was earlier in Season 2. She's getting ready to have her baby and all she really wants is for the baby to have a supporting family. However, the Lyons broke her in the first half of the season following their constant rejection. She would go on to do crazy things like putting on a blonde wig and pretending to be a limo driver for Hakeem's (Bryshere Y. Gray) girlfriend Laura (Jamila Velazquez). Could the shoe be a red herring or will Anika turn out to be the one that pushed Rhonda?
"Empire" Season 2 airs Wednesdays on Fox at 9 p.m. EDT. Who do you think pushed Rhonda? Soundoff in the comments section below!
© Copyright IBTimes 2023. All rights reserved.
FOLLOW MORE IBT NEWS ON THE BELOW CHANNELS