'Empire' Season 2 Spoilers: Episode 17 Synopsis Released; What Will Happen In 'Rise By Sin'? [VIDEO]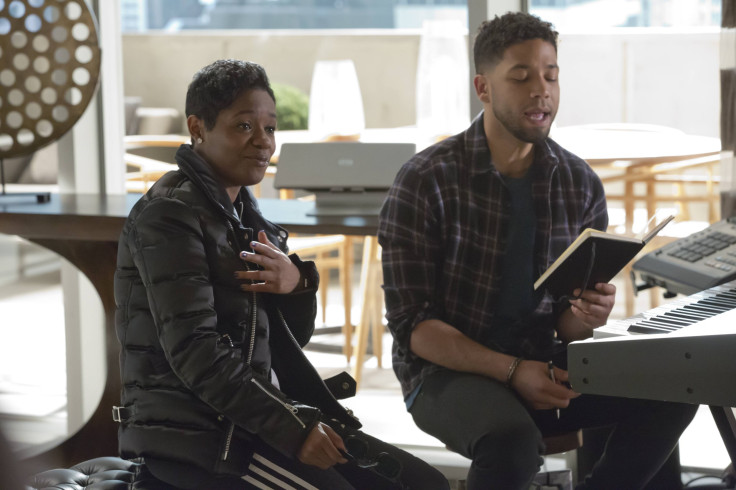 Just two episodes remain on "Empire" Season 2 and you can expect plenty of drama with twists and turns the rest of the way. Lucious and Cookie's past could soon come back to haunt them and in episode 17, titled "Rise by Sin," these ghosts could start to surface.
According to the synopsis, Cookie (Taraji P. Henson) is going to finally tell Jamal (Jussie Smollett) why she's so uneasy around Freda Gatz (Bre-Z). Cookie had Lucious kill her father Frank Gathers (Chris Rock) while he was in prison. She fears that if Freda finds out she'll retaliate against the family. Jamal will go to Freda to warn her about his family's "ulterior motives."
Hakeem (Bryshere Y. Gray) will start to prepare for married life in episode 17, but it appears as though the young rapper might start to get cold feet. The youngest Lyon will start to feel "under pressure" about finding a place for his fiancé Laura (Jamila Velazquez) in his family life, as well as his career. In episode 16, he chose to get Tiana (Serayah) involved on one of his new songs, which Laura wasn't happy about. Will Hakeem remain loyal to Laura or will he move towards his ex in episode 17?
Lucious' (Terrence Howard) life was flipped upside down in episode 16 when Andre (Trai Byers) brought his mother Leah Walker (Leslie Uggams) back into his world. Lucious swears that his mother is dangerous, but everyone thinks he's just saying that. In the final moments of episode 16, we saw that his mother really is crazy as she told her son that she should've killed him when she had the chance. The story of Lucious' mother will continue to play out and in episode 17 someone is going to "make a sacrifice" on Lucious' behalf.
Although Lucious found a way out of prison this season, the FBI is still trying to find something that will put him back behind bars. An FBI agent named Tariq (Morocco Omari) is looking into Lucious and the Lyons. In the episode 17 promo video, Cookie is shown talking to him and trying to shrug him off, but he knows the family is hiding something.
The promo video for episode 17 also once again teased viewers that a member of the Lyon family might be killed off this season on the show. The American Sound Awards are expected to take place, which could be the site of a shooting. The video ends with the sound of a gunshot and people running from the scene. Will next week be the week a member of the Lyon family falls?
Watch the promo video for episode 17 below:
"Empire" Season 2, episode 17, airs Wednesday, May 11, on Fox at 9 p.m. EDT.
© Copyright IBTimes 2023. All rights reserved.
FOLLOW MORE IBT NEWS ON THE BELOW CHANNELS