'Empire' Season 2 Spoilers: Who Pushed Rhonda? Theories On Possible Suspects Based On Episode 11 Clue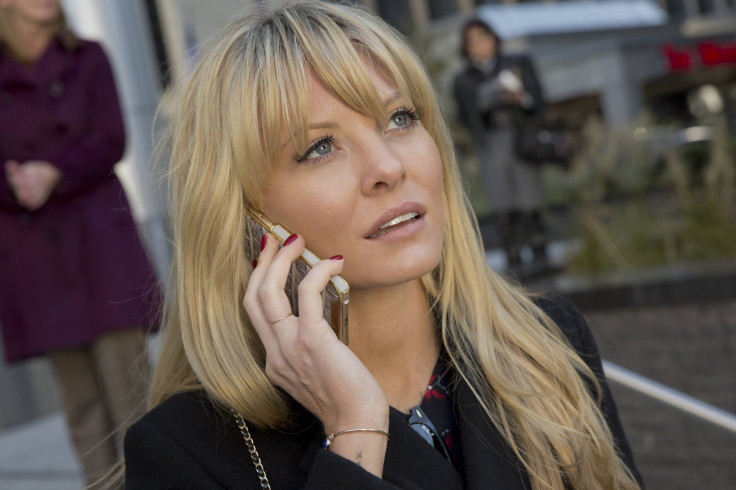 When "Empire" Season 2 returned to Fox Wednesday night, the Lyons were hit with news that would shake the entire family. After Rhonda's (Kaitlin Doubleday) fall down the stairs, she and Andre (Trai Byers) lost their baby. Rhonda was violently pushed down the steps, but she currently doesn't remember everything that happened that night. The biggest question left to be answered this season is: Who was the person that pushed her?
Viewers were given one clue in episode 11 that could hint at who did it. While Rhonda was dazed, lying on the floor, the person who was in the house walked over her and out the door. As the person stepped outside, a glimpse of a high heel with red on the bottom was shown, which indicates it likely was a female who hurt her.
In an interview with TV Guide, Doubleday wouldn't reveal who pushed her character, but said it would be announced by the season's final episode when Rhonda confronts the person "in a crazy, insane way." She also said future episodes will make it look like a certain person, but that it's not who fans would expect.
The obvious suspect in the pushing is Anika (Grace Gealey). Anika has become unhinged in Season 2 after all the mistreatment by the Lyon family. Anika is pregnant with Hakeem's (Bryshere Y. Gray) child and has been obsessed with the family ever since she became aware of it. She has become friends with Rhonda and, in turn, Rhonda has told her how great things have been for her since she's been pregnant. Lucious (Terrence Howard) treats her with respect, even buying a house for her and Andre.
It's probable Anika saw an opportunity to get that same treatment since she also is pregnant. However, she likely wants to be the only mother of a Lyon grandchild, and she could have taken it upon herself to push Rhonda down the stairs to make this happen. The red high heels would also be fitting for her, as she has worn similar gear on the show before.
So Anika appears to be the obvious choice, but Doubleday warned it isn't who you expect. With this in mind, it's also possible Camilla (Naomi Campbell) could be behind the push. Camilla works in fashion, and the heels seemed stylish enough to be worn by her. She is currently motivated to do all she can to get Hakeem back, while also getting one over on the rest of family for sending her away. Maybe she did it as a twisted way to take her revenge on Lucious and his family.
There is also the possibility the person who pushed her hasn't been introduced yet. Unlike the other Lyons family members, Andre has not been one to make enemies, which is generally true of Rhonda as well. Perhaps a new character from the couple's past will appear on the show with a motive of his or her own for wanting to hurt them. During Season 1, Rhonda accidentally killed Vernon (Malik Yoba) and Andre buried his body. Could the pusher be somebody close to Vernon who knows their guilty secret? Stay tuned for clues in the next couple of episodes.
"Empire" Season 2 airs on Fox Wednesdays at 9 p.m. EDT.
© Copyright IBTimes 2022. All rights reserved.
FOLLOW MORE IBT NEWS ON THE BELOW CHANNELS