'Empire' Season 2 Spoilers: What Happened In The Fall Finale? Episode 10 Recap Before The Spring Premiere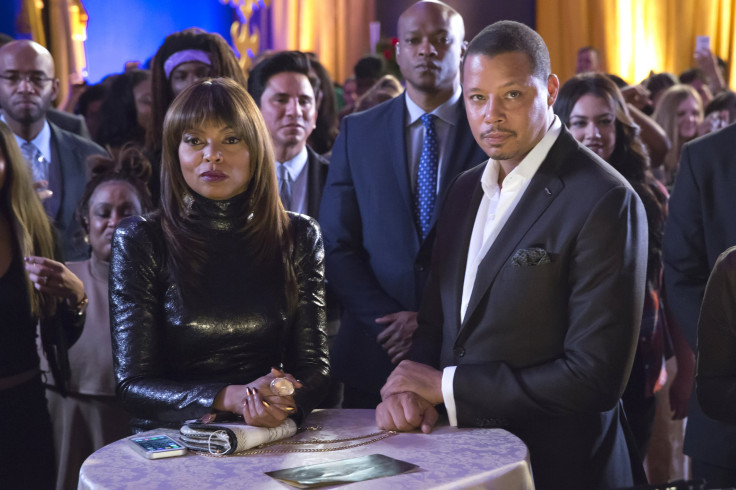 The first part of "Empire" Season 2 ended with a bang in December. Lucious (Terrence Howard) lost the company he loves more than anything in the world and Hakeem (Bryshere Y. Gray) made a move against the family. There was also a moment involving Andre's (Trai Byers) wife Rhonda (Kaitlin Doubleday) that could forever change the Lyons. Before you tune in to the spring premiere on Fox Wednesday night, here's what happened in episode 10.
When the fall finale began, the American Sound Award nominations were announced and Hakeem, Jamal (Jussie Smollett), and Lucious are all in the running. Jamal and Lucious were both nominated for the biggest award, song of the year, so they'll be competing for the honor when the show returns.
Lucious had big plans to clean house after making a deal with the streaming service Swiftstream. Mimi (Marisa Tomei), whom he'd thought was his partner, recorded a conversation with Lucious where he bashed the board members of his public company. It was later revealed that Mimi's wife was Hakeem's ex-girlfriend Camilla (Naomi Campbell).
Camilla had Mimi set up Lucious to try to take the company away from him. Mimi exposed Lucious to the board and it came down to a vote to see if Lucious remains CEO of Empire or gets forced out. Camilla's motive for doing this was not only to get back at Lucious for making her get out of Hakeem's life but also to win back Hakeem and push his career forward.
Hakeem has moved on since Camilla and is in love for the first time, with singer Laura (Jamila Velazquez). Hakeem will have to decide who he really wants in the second half of "Empire" Season 2.
After years of being tormented by his father, Hakeem finally had enough of Lucious. When Lucious needed him the most, Hakeem turned his back on his father and family by voting to have Lucious removed as CEO of Empire. Lucious is left heartbroken but mostly filled with rage over what Hakeem has done. He will now stop at nothing to get back what he built.
In one of the most disturbing moments of the season, a pregnant Rhonda (Kaitlin Doubleday) was pushed down a flight of steps by someone (most likely Anika [Grace Gealey]) in episode 10. Rhonda fell extremely hard and the fate of her and her baby were left up in the air as she lay at the base of the stairs bleeding.
"Empire" Season 2 returns Wednesday, March 30, on Fox at 9 p.m. EDT.
© Copyright IBTimes 2023. All rights reserved.
FOLLOW MORE IBT NEWS ON THE BELOW CHANNELS