'Empire' Season 2 Spoilers: 7 Things To Know Before The Spring Premiere On March 30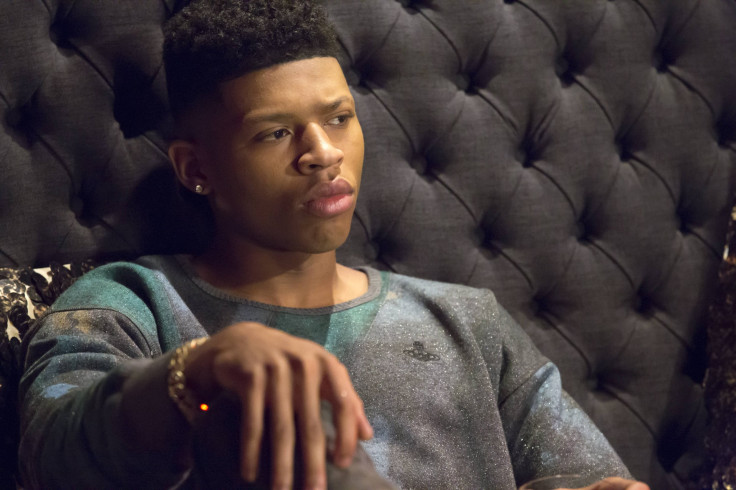 Game on, "Empire" fans. After a hiatus that lasted nearly four months, the second half of the hit Fox series will kick off Wednesday, March 30. The Lyons are going to have a lot of drama to sort through when Season 2 returns, like how Hakeem (Bryshere Y. Gray) voted to have control of Empire taken away from Lucious (Terrence Howard). Lucious will also be up against Jamal (Jussie Smollett) for one of the biggest awards in music.
Eight episodes remain in Season 2 and there are plenty of storylines still left to playout. Lucious is going to stop at nothing to get his company back, even if that means going back to his criminal roots. It will also be revealed whether or not Andre (Trai Byers) and Rhonda's (Kaitlin Doubleday) baby survived Rhonda's painful fall down their stairs. Here are seven things to know about the second half of "Empire" Season 2 before the show returns.
1. Rhonda Survives Her Fall
One of the biggest cliffhangers going into the second half of Season 2 was the fate of Rhonda. Andre's pregnant wife was violently pushed down a flight of stairs and was left at the bottom of the staircase bleeding. It was unclear whether or not she or her baby survived the fall. In an interview with TVLine, Doubleday revealed that not only did her character survive, but she'd be out for revenge for the person who pushed her later on this season in the finale.
2. The Lyons Come Back Together
In an interview with the Los Angeles Times, showrunner Ilene Chaiken said the big storyline going into the second of "Empire" Season 2 is the family coming back together.
"The Lyon family comes back together initially to vanquish their enemies, to take their company back while always and forever competing with one another for all the same things," Chaiken dished. "So, there are shifting allegiances in the context of all that, but it's very much about the love and the treachery among these wild and crazy people."
3. Cookie And Lucious Will Work Side-By-Side
Throughout most of the show's history, Lucious and Cookie (Taraji P. Henson) have butted heads despite still having some love for one another. Cookie went head-to-head with Empire in the first half of Season 2 when she created Lyon Dynasty with Hakeem, which was a separate label to compete with Lucious' company. Now that Lucious has lost what the two of them both started years ago, Cookie will come to Lucious' side. She'll try to help him get the company back without him doing something crazy or that he might regret.
4. Hakeem To Push For CEO
During the shocking fall finale, Hakeem betrayed his family when he voted to have his father removed as CEO of Empire. Control of the company now lies in the hands of Camilla (Naomi Campbell), who will probably give the CEO position to Hakeem. If Hakeem does become CEO and Lucious is still on the outside looking in, it could create for even more drama within the Lyon family.
5. Less Guest Stars
The first half of "Empire" Season 2 was packed with guest stars, including Alicia Keys, Pitbull, Rosie O'Donnell, Marisa Tomei and Chris Rock. Chaiken told New York's Newsday to expect much less in the back half.
"The eight episodes that begin are much more about the family and the guest stars in those are to service stories, and they are there for those stories. There's not an instance of 'Oh, so and so has to be on the show, and the show has to write something for them,'" Chaiken said.
6. Jamal vs. Lucious
Lucious won't only be squaring off against Hakeem, but he'll also be battling Jamal for an American Sound Award for song of the year. Jamal seems happy that he's going up against his father and will in all likelihood be happy with whoever wins. Lucious being the ruthless person her is, will stop at nothing to win the award even if it means playing dirty against his own son.
7. Someone Might Die
Season 2 is expected to come to a close with a cliffhanger. Chaiken told TVLine that "someone might not be coming back" when all is said and done. Will it be a member of the Lyon family? Anika? Camilla?
"Empire" Season 2 returns Wednesday, March 30 on Fox at 9 p.m. EDT.
© Copyright IBTimes 2023. All rights reserved.
FOLLOW MORE IBT NEWS ON THE BELOW CHANNELS