England-Italy: Manaus Turf Reportedly 'Painted Green' Amid 'Unsuitable' Conditions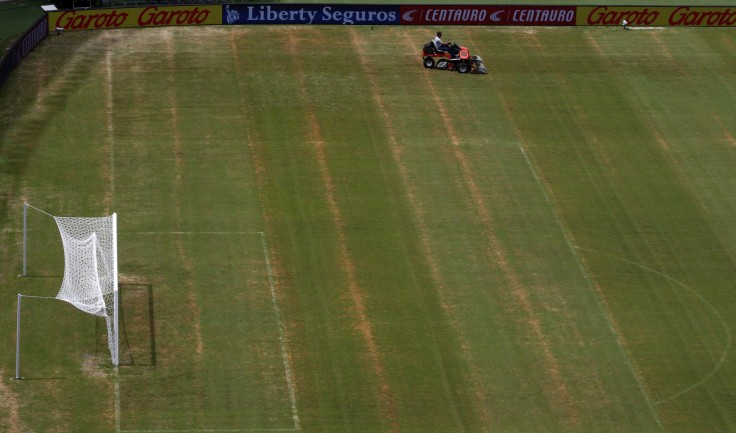 The ground staff at the Arena Amazonia stadium in Manaus, which will host England's opening World Cup group game against Italy on Saturday, said that the pitch has been "painted green" amid concerns about its poor condition, according to reports.
Organizers of the 2014 FIFA World Cup did not reportedly make any comment on the ground staff's claims that brown patches on the field were being colored green except to say that the turf had undergone treatment ahead of the first Group D match in the capital city of the state of Amazonas in northern Brazil. The world players' union FIFPro reportedly slammed the conditions of the ground on Wednesday stating that Manaus was unsuitable for World Cup matches.
"The players deserve a quality playing surface and conditions that reflect what is meant to be the world's premier football event. This is simply not the case in Manaus," FIFPro reportedly said, in a statement. "Nobody wants to see the players and the spectacle in general suffer."
The Sports Turf Research Institute reportedly claimed that though the pitch may not look nice, playing on it would not cause any problems, while a FIFA spokesperson said that "mitigation procedures have been put in place and there continues to be, significant improvement" over the last three months.
Both teams will reportedly get a chance to test the turf at the stadium during practice sessions Friday night.
Although FIFA has claimed that conditions in Manaus are favorable for the game, Carlos Botella, the head groundsman for Royal Verd, the company responsible for the turf at Manaus and six other World Cup stadiums, reportedly said that the surface still remains in poor condition.
"Frankly, Manaus is in bad shape," Botella told Associated Press. "We've started to implement an emergency plan to try to save the field and improve it as much as possible, but I don't think it'll be in good condition by the weekend.
On Friday, the temperature in Manaus was expected to reach a high of 87 degrees Fahrenheit and humidity levels touched 94 percent, while on Saturday, temperatures are expected to touch a high of 89 degrees Fahrenheit with humidity levels around 67 percent, according to Weather.com.
Ottmar Hitzfeld, the Switzerland team's coach, said that the decision of playing "in the middle of the jungle" was "almost irresponsible," according to Reuters. Switzerland will be playing Honduras in the city on June 25.
"FIFPro's concerns stretch to parts of Brazil, including Manaus, where heat and humidity can reach dangerous levels at this time of year," the players' union reportedly said. "Putting a player in harm's way is shockingly irresponsible and not how the game ought to be run."
© Copyright IBTimes 2022. All rights reserved.
FOLLOW MORE IBT NEWS ON THE BELOW CHANNELS