Eric Garner's Daughter, Erica, On Life Support After Suffering Heart Attack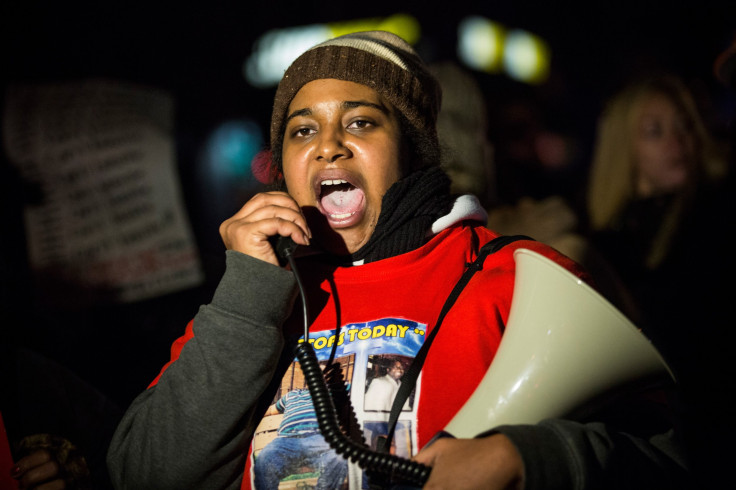 Erica Garner, the daughter of Eric Garner – who died in 2014 after being placed on a chokehold by an NYPD officer – was rushed to the hospital on Saturday, after she suffered a severe heart attack.
The attack was the result of a massive asthma attack after which the 27-year-old, who became an advocate against police brutality after her father's death, was unable to breathe on her own. Her condition deteriorated on Christmas Eve as she remained on life support in the Intensive Care Unit of a Brooklyn hospital.
"(She) is still with us. She's fighting. The doctor says she has a strong heart," Erica's mother Esaw Snipes-Garner told the New York Daily News.
Erica's sister, Emerald Snipes took to Facebook to share the heartbreaking news about Erica's condition. "My sister had another heart attack last night and she's in critical condition," Snipes wrote. "I just left the hospital and it's not looking good. . . . I pray she makes it; she has two little ones to live for."
She also added that with her sister fighting for her life in the hospital, the rest of the family was not exactly feeling the holiday spirit. "Don't even feel like Christmas but I gotta fake smile for my baby," Snipes wrote. "Erica better get better soon. She gets on my last nerve but I'd rather fight with my sister then to lose her."
Erica's foster mother, Tanya Goode, was seen leaving the Brooklyn hospital in tears on Christmas Eve. Erica's brothers and a sister-in-law also stayed at the hospital till late at night. "I was here last night and I've been here all day today," Goode said. "Erica is on life support. She can't breathe on her own. So she's not doing well."
Erica initially suffered a heart attack after giving birth to her second child in August. The doctors informed Erica, already a mother of an 8-year-old at the time that her heart had enlarged following her complicated pregnancy — something that Erica was not aware of until then.
Erica's mother said that there was nothing more to do other than to wait and see if her health improves. "She's not doing well and we're praying," Snipes-Garner said.
Some of the latest posts of Erica were about Christmas shopping and finding the perfect gift for her daughter.
Erica has led a number of protest marches following the death of her father, especially after Staten Island grand jury declined to indict NYPD Officer Daniel Pantaleo, who was responsible for using the forbidden chokehold while trying to arrest Eric, a technique that killed him.
She has also publicly rebuked former President Barack Obama for not investigating her father's death faster and New York Mayor de Blasio for not releasing Pantaleo's disciplinary record.
Erica's father also suffered from asthma and his last words before he choked to death were "I can't breathe, I can't breathe." Eric, 45, drew the attention of law enforcement agents when he was caught selling cigarettes illegally.
© Copyright IBTimes 2023. All rights reserved.