Erotic Timepieces For Valentine's Day
Sponsored content from Modern Luxury
A celebration of romance, Valentine's Day is also an opportunity for sensuality. A high-end timepiece might seem like the last item to find in a bedroom scene, but a wristwatch is such a personal article, and it already incorporates a number of secret pleasures, as anyone who loves a transparent caseback can attest, that a miniature erotic tableau is a natural extension, as well as a way for the watchmaker to show off some of the finer horological arts.
Jaquet Droz
The erotic watch tradition dates back to the late 17th century, and the models that survive are exquisite in the way they combine métiers d'art such as engraving and enameling, explicit sexuality and the necessary subtlety of constructing such salacious works of art.
A Jaquet Droz model from circa 1790 appears to be a regular pocket watch, albeit set with pearls and rubies, and with a miniature enamel painting on the back. Open the latch, however, and a tryst on a ship is revealed, with figures carved in 18-karat gold. A full view of this artifact can be seen on Jaquet Droz's website.
Ulysse Nardin
Carrying on the tradition of expertly carved automatons, Ulysse Nardin has developed its own niche within the rarefied high-end watch world, creating works that put the erotic component front and center. At SIHH 2018, the brand presented its brand-new Classic Voyeur in a private "boudoir" area, complementing the tension between secrecy and explicit content that powers much of a the titillation to be found in these models. The new model presents two couples carved in 18-karat gold (rose or white, to match the case), one of which is spying on the other. When the hours chime, the lovers… activate.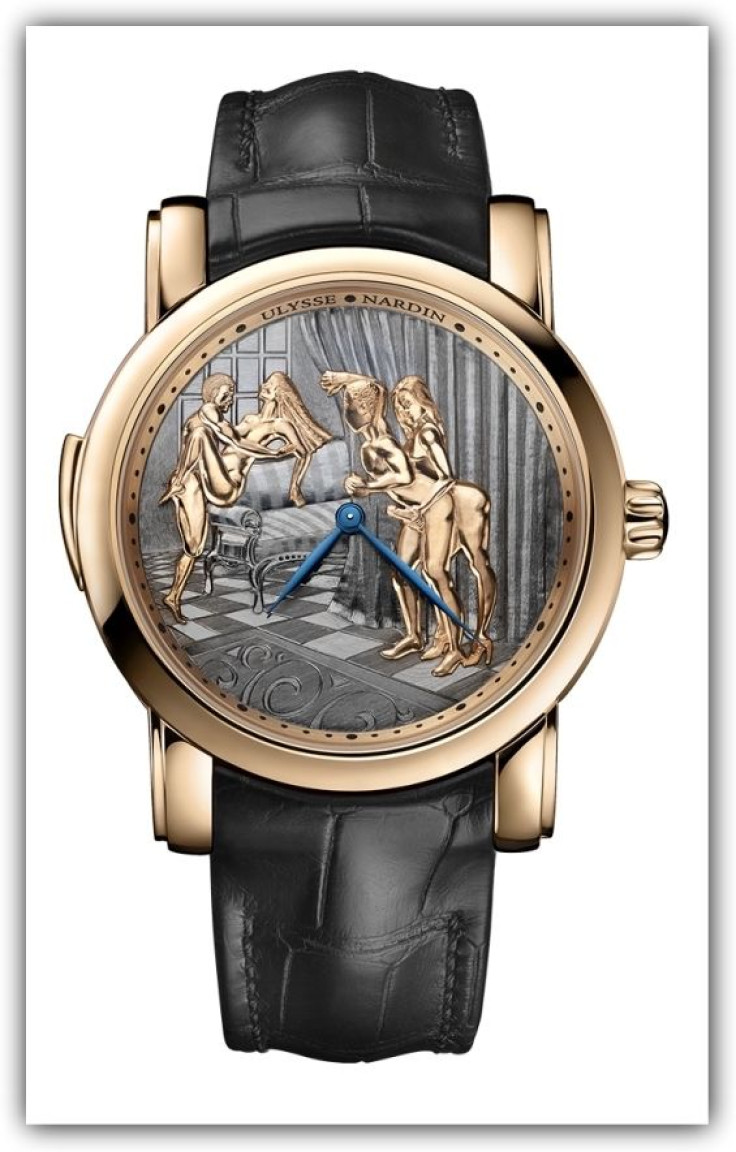 Jacob & Co.
Hearkening back to a more discreet tradition, Jacob & Co. conceals its sultry scene under the dial of the Caligula, which is guilloché in a pattern that recalls sexy fishnet stockings. The manually wound automaton scene was hand-crafted by miniaturist Andre Martinez, requiring 15 hours of unusually focused labor per dial. This model is available in rose or white gold, adorned with diamonds or without—each variation, naturally, is available in a limited edition of 69 pieces.
Richard Mille
Lending a cerebral charm to the pleasures of the flash, Richard Mille's RM 69 sparks a conversation, reminding us that the most powerful erogenous zone is between the ears. Grade-5 titanium rollers bear suggestive requests, activated by the push of a button at 10 o'clock. If the watch's hands are in the way, another button at 8 o'clock sweeps them aside for a moment, allowing the lovers unfettered lines of communication. This 30-piece limited edition is available exclusively in Richard Mille boutiques.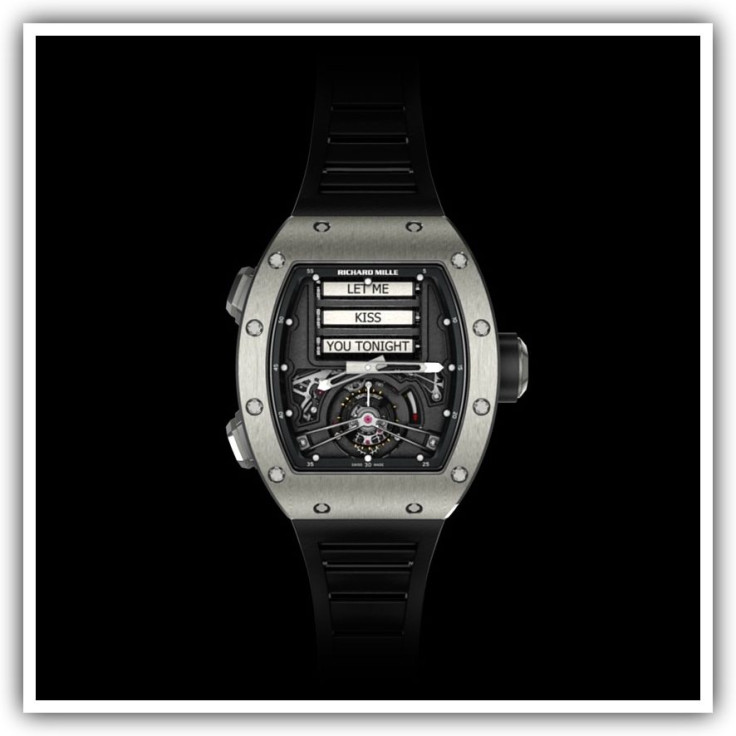 Zannetti
Zannetti's Brain Orgy models don't boast revolving dials, brand-new complications or minute automatons, but the enameled orgy scene is so charming that we had to include it. The automatic movement within also powers a date display at 3 o'clock and day of the week at 12 o'clock.