Euro 2016: Who Will Win? Artificial Intelligence, Probability And Neural Networks Being Used To Predict Winners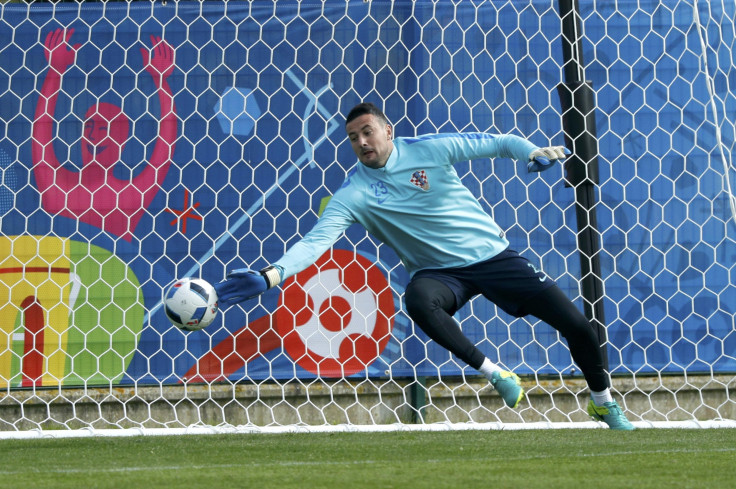 A lot can change in the space of six years: At the 2010 FIFA World Cup in Germany, match results were predicted by an octopus named Paul. As Euro 2016 prepares to kick off Friday in France, scientists are using advanced neural networks to try to figure out which team will win this summer's big soccer tournament.
As fans from across the continent begin their journeys toward France this week, predictions among them will be based on passion, patriotism and hope rather than algorithms, artificial intelligence or machine learning. But that's not stopping companies like Microsoft, Yahoo and Blue Yonder from trying to leverage their technology to predict this year's winner.
At the World Cup in 2010, Paul the Octopus became a celebrity by accurately predicting the results of every single game involving host country Germany, which went on to win the tournament. Paul's method, though, wasn't what most people would call "scientific." Ahead of each game he was presented with two boxes of food, identical except that they were painted in the colors of the respective teams. Whichever box he ate from was deemed the winner.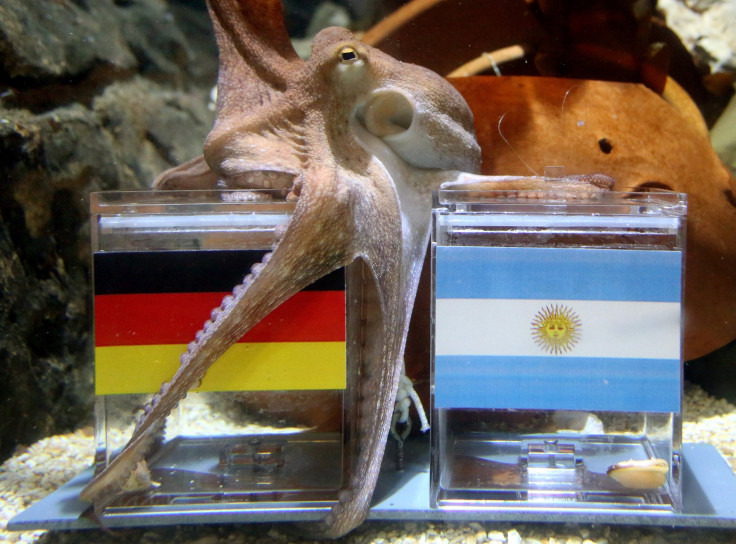 Fast-forward six years, and the methods being deployed to predict the winner of Euro 2016 are somewhat more sophisticated.
Blue Yonder, a cloud-based predictive analytics company founded by former European Organization for Nuclear Research (CERN) scientist Michael Feindt, is using an advanced neural network implementation to analyze each country's chances of winning, using the NeuroBayes algorithm Feindt created at CERN to predict what particle collisions should be looked at in the Large Hadron Collider.
Blue Yonder fed the results of every single international match ever recorded into the algorithm to generate the probabilities of each team's chances in each game. The result was 94 billion possible ways Euro 2016 could play out, but, by using the Monte Carlo method — a probability simulation often used in the financial sector — it concluded that host France will be the winner, beating reigning champion Spain in the final.
"France are expected to win the tournament and have a 34.1 percent probability of winning," the company said. "This is double their closest rival, Spain, who only have a 13.4 percent chance of winning, in comparison."
Blue Yonder's pick of France is backed up by Gracenote, a leading provider of entertainment data, which has developed a forecasting model to predict the tournament's final outcome. The company acquired Infostrada Sports and SportsDirect in May 2015 and launched Gracenote Sports, which it says allows it to predict the outcomes of tournaments like Euro 2016.
The number crunchers at Goldman Sachs have also gone for France as the winners of the tournament, saying that the home advantage will give them a slight edge over Germany. However, given that the last time the bank tried to predict the outcome of a soccer tournament it gave the eventual winner, Brazil, just a 48 percent chance, Goldman is taking its own predictions with a grain of salt. "It is difficult to assess how much faith one should have in these predictions."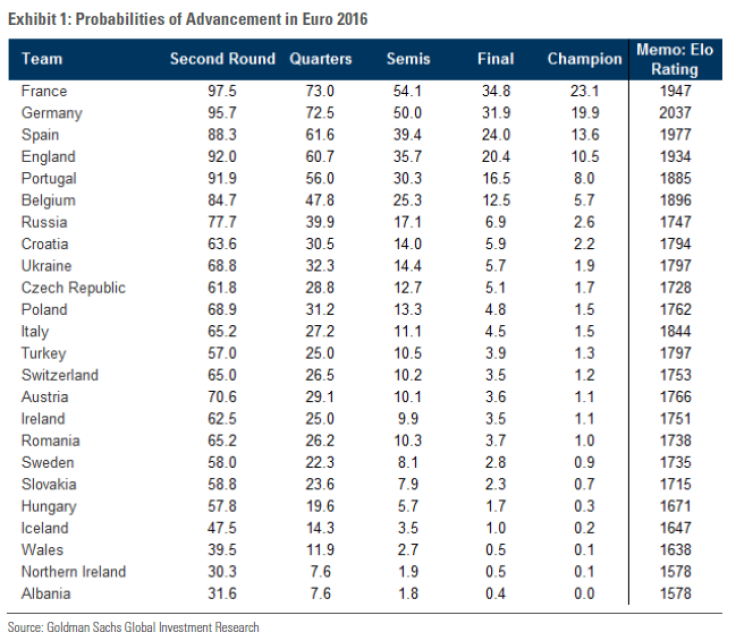 However, not everyone is predicting Les Bleus will take home the title this summer for the first time in 16 years.
According to Microsoft and its Bing search engine, Germany is set to reclaim the crown of European champions for the fourth time and edge ahead of Spain with the most wins in the competition.
Bing has a strong track record in making such predictions, correctly guessing the outcome for all 15 knockout matches at the 2014 World Cup in Brazil. Additionally, Bing accurately predicted the results in the Scottish Referendum, the Oscars and the Cricket World Cup.
Bing's method of predicting the results of soccer matches uses a combination of social media analysis, online search and performance evaluation, with the company saying: "Somewhat inevitably, the Germans will finish as the tournament winners."
This prediction is backed by Yahoo, which used "a combination of scientific expertise and unique access to data from Yahoo Sports and Tumblr" to predict that Germany would win in France this month.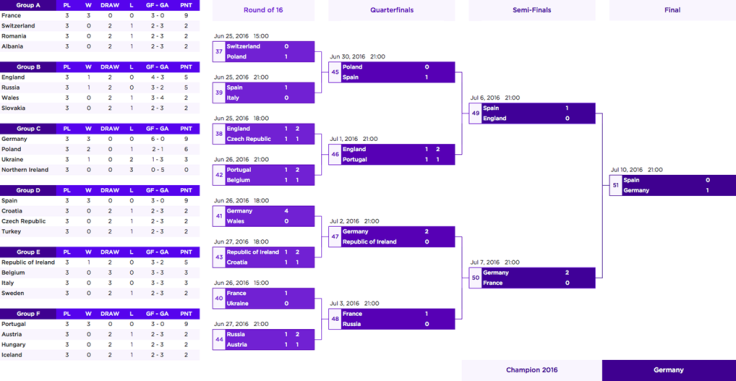 To come to this conclusion, the team of scientists at Yahoo waded through 24 million Tumblr blogs to analyze over 20 billion posts from the first five months of this year to look at all the conversations taking place around Euro 2016.
They then examined four years of Yahoo Sports data for each team in this year's tournament and developed a statistical model for predicting the winners for each match. As well as predicting that England will reach the semifinals for the first time since the country hosted the event 20 years ago, Yahoo predicts that the Republic of Ireland — which is among Blue Yonder's least favorite teams at the tournament — will excel by reaching the quarter finals where they will be beaten by the ultimate winner, Germany.
Sadly, Paul the Octopus passed away soon after his triumphant efforts at World Cup 2010, meaning Euro 2016 will be without his tentacled predictions. However, if you like your predictions a little less scientific, a U.K. company in Gloucester is looking to keep the magic alive by replacing Paul the Octopus with a leaf blower and an empty watercooler bottle.
According to the Gloucester Citizen website, the contraption will be used to pick employee sweepstakes teams for the upcoming European Championships. "It works like a DIY lottery machine, with the leaf-blower pushing pingpong balls up through the bottle and out on to the upside-down chicken-shaped egg holder."
Correction, June 8, 2016, 3:44 p.m. EDT: A previous version of this article stated that Germany hosted the FIFA World Cup in 2010. Germany actually hosted the event in 2006.
Correction, June 9, 2016, 10:55 a.m. EDT: A previous version of this article stated that Paul the Octopus made his predictions in 2006. He actually made his predictions in 2010.
© Copyright IBTimes 2022. All rights reserved.
FOLLOW MORE IBT NEWS ON THE BELOW CHANNELS