Euro deal leaves much to do on rescue fund, Greek debt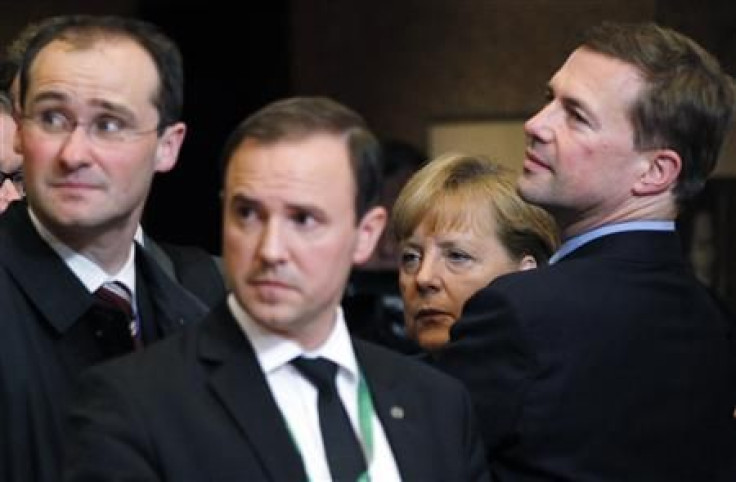 Euro zone leaders struck a last-minute deal to limit the damage from the currency bloc's debt crisis early on Thursday but are still far from finalizing plans to slash Greece's debt burden and strengthen their rescue fund.
After a summit in Brussels, governments announced an agreement under which private banks and insurers would accept 50 percent losses on their Greek debt holdings in the latest bid to reduce Athens' massive debt load to sustainable levels.
Reached after more than eight hours of hard-nosed negotiations between bankers, heads of state and the IMF, the deal also foresees a recapitalization of hard-hit European banks and a leveraging of the bloc's rescue fund, the European Financial Stability Facility (EFSF), to give it firepower of 1.0 trillion euros ($1.4 trillion).
European stocks surged to a 12-week high and the euro shot above $1.40 to reach its top level against the dollar in seven weeks following the deal, which had appeared at risk due to deep differences between Berlin and Paris.
But key aspects of the deal, including the mechanics of boosting the EFSF and providing Greek debt relief, could take weeks to pin down, meaning the plan to rebuild confidence after two years of crisis could unravel over the details.
I see the main risk is that we are left waiting too long again for the implementation of these agreements, European Central Bank policymaker Ewald Nowotny said on Thursday. Speed is very important here, he told national broadcaster ORF.
Three months ago, euro zone leaders unveiled another agreement that was meant to draw a line under the debt woes that threaten to tear apart the 12-year old currency bloc. But they realized within weeks that it was inadequate given the depth of Greece's economic problems and the vulnerability of their banks.
The new deal aims to address these holes.
ABSOLUTELY SUSTAINABLE
Under it, the private sector agreed to voluntarily accept a nominal 50 percent cut in its bond investments to reduce Greece's debt burden by 100 billion euros, cutting its debts to 120 percent of gross domestic product by 2020, from 160 percent now.
The euro zone will offer credit enhancements or sweeteners to the private sector totaling 30 billion euros. The aim is to complete negotiations on the package by the end of the year, so Greece has a full, second financial aid program in place before 2012.
The value of that package, EU sources said, would be 130 billion euros -- up from 109 billion euros in the July deal.
The debt is absolutely sustainable now, Greek Prime Minister George Papandreou said in Brussels after the deal was struck. Greece can settle its accounts from the past now, once and for all.
A top lawyer for the International Swaps and Derivatives Association said that because banks had agreed to accept the losses, the deal was unlikely to trigger a credit event under which default insurance contracts would be paid out.
In a bid to convince markets that they can prevent larger countries like Italy and Spain from being swept up by the crisis, euro zone leaders also agreed to scale up the EFSF, the 440 billion euro bailout fund they have already used to provide help to Ireland, Portugal and Greece.
Around 250 billion euros remaining in the fund will be leveraged 4-5 times, producing a headline figure of around 1.0 trillion euros, which will be deployed in a variety of ways.
The EFSF will be leveraged in two ways, either by offering insurance, or first-loss guarantees, to purchasers of euro zone debt in the primary market, or via a special purpose investment vehicle that will be set up in the coming weeks and which is aimed at attracting investment from China and Brazil.
The methods could be combined, giving the EFSF greater flexibility, the euro zone leaders said.
But EU finance ministers are not expected to agree on the nitty-gritty elements of how the scaled up EFSF will work until some time in November, with the exact date not fixed.
There is also concern about Italian Prime Minister Silvio Berlusconi's commitment to implementing reforms seen as crucial for restoring confidence in the bloc's third largest economy.
Dogged by scandals, Berlusconi has promised to raise the retirement age to 67 by 2026 and attempt other reforms, but the EU is reserving judgment.
SARKOZY TO TALK TO HU
Japan and Canada welcomed the euro zone agreement. China's official Xinhua news agency said the outcome was positive but filled with difficulties.
A spokeswoman for China's foreign ministry confirmed that President Hu Jintao would speak with French President Nicolas Sarkozy by phone later. An EU source told Reuters the conversation would center on Beijing's possible participation in the bailout fund.
Beijing has been a big buyer of bonds issued by the EFSF, which is triple-A rated by credit agencies.
As with the July 21 agreement, the concern is that Thursday's deal will only work if the fine print can be promptly agreed with the private sector, represented by the Institute of International Finance (IIF).
Charles Dallara, the managing director of the IIF, said those he represented were committed to making the deal work.
We believe (bank take-up) is likely to be very, very high, Dallara said on Thursday. All parties recognized not only that the future of Greece but also the future of Europe and the future of the world economy was at stake.
Josef Ackermann, chairman of the IIF and CEO of Germany's largest bank Deutsche Bank, described it as an acceptable compromise.
Alongside the hit to the private sector, euro zone leaders agreed the banking sector needs recapitalizing to the tune of around 106 billion euros.
German sources told Reuters that four German lenders -- NordLB, LBBW, Commerzbank and Deutsche Bank -- would be asked to shore up their capital. Three leading French banks ruled out the need for government help in meeting tougher capital requirements.
While the headlines look good, the devil is in the details, said Damien Boey, equity strategist at Credit Swisse in Sydney. We don't actually know how they are planning to increase the bail-out fund size from 440 billion euros to a trillion. On top of that, there are some questions as to whether one trillion euros in itself is enough.
There were corporate doubters, too. Oil giant Royal Dutch Shell said it planned to curb its investments in the European Union in future due to doubts about the bloc's chances of recovering from the crisis.
Europe's macroeconomic position can only recover and the sovereign debt crisis can only be addressed through underlying economic growth, Simon Henry, chief financial officer, told reporters on a conference call on Thursday.
We do not see the European Union creating the conditions for that, in fact quite the opposite, he said.
($1 = 0.724 Euros)
(Additional reporting by Julien Toyer, Jan Strupczewski, Yann Le Guernigou, David Brunnstrom, Robin Emmott, Harry Papachristou and John O'Donnell in Brussels, Annika Breidthardt and Sarah Marsh in Berlin, Daniel Flynn in Athens, Barry Moody in Rome, Tom Bergin in London; Writing by Noah Barkin, Luke Baker and Mike Peacock; Editing by Ruth Pitchford)
© Copyright Thomson Reuters 2023. All rights reserved.