Europe Stages Summit To Warn Moscow That Moldova Is Not Alone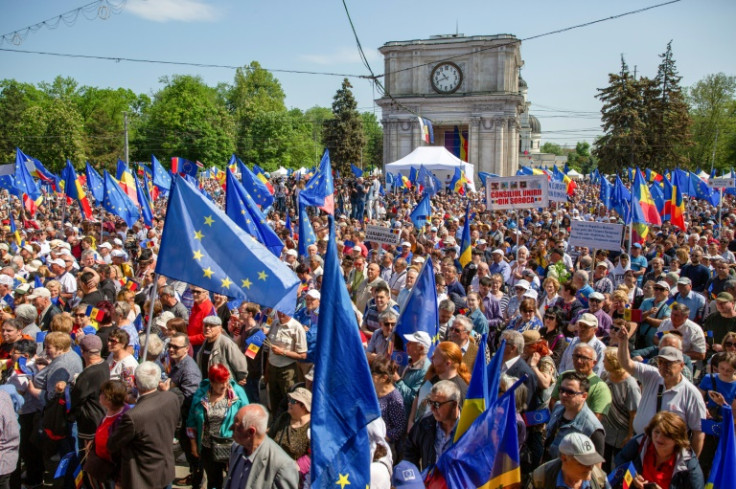 There may not be much time to discuss security strategy in detail, but a summit of up to 47 European leaders just outside Moldova's capital Chisinau should send Russia a powerful message.
Moldova's fragile democracy lives under the shadow of Moscow's invasion of neighbouring Ukraine and efforts by Russian-backed agents to undermine its ambitions towards European integration.
It will already be a logistical and political feat if the European Political Community (EPC) manages to gather dozens of heads of state and government on Thursday for a summit group photo in solidarity with Moldova's pro-Western government.
The EPC is a forum for European leaders inside and outside the EU to discuss common strategic threats, and EU candidates like Moldova -- an economically weak former Soviet republic of less than three million -- see membership as a staging post on the road to Brussels.
"There has never been such a mega-event in the history of Moldova," said Felix Hett, an expert on Ukraine and Moldova at Germany's Friedrich Ebert Foundation.
"If all goes well, the summit will be a promotional event for Moldova, a proof of what the small country can achieve," he told AFP.
Moldova is divided between a breakaway region occupied by Russian "peacekeepers" and its politics have been undermined by corruption and foreign provocateurs.
It has fallen behind neighbours to the west and north in the quest to join the European project, but the increased attention being paid by Western nations to the region since Russia's all-out invasion of Ukraine has shaken up the political picture.
"Moldovan politicians are aware that they owe EU candidate status to the war in Ukraine," Hett said.
To ensure the safe and orderly organisation of the summit a vast air traffic operation has been set up to accommodate leaders' planes at Moldova's small airport.
More than 2,000 delegates are expected to attend the talks in Mimi Castle, a wine estate 35 kilometres (20 miles) outside Chisinau and about the same distance from Tiraspol, capital of the separatist region of Transnistria.
France's President Emmanuel Macron, who promoted the idea of the EPC as a European strategic vehicle that would embrace countries outside the European Union -- but exclude Russia and its ally Belarus -- is due to attend.
In addition to the 27 EU members, 20 more leaders have been invited from countries with as varied strategic interests as the United Kingdom, Turkey, Switzerland, Iceland, Serbia, Armenia and Azerbaijan.
The first EPC summit in Prague in October last year gathered 44 leaders, and since then the microstates of Andorra, Monaco and San Marino have joined.
The second meeting may also see an appearance by President Volodymyr Zelensky -- fresh from a diplomatic tour to the Arab League in Saudi Arabia and the G7 summit in Japan -- although the Ukrainian leader's travel plans are never revealed in advance.
"We'll need to see who is in the photo, but also who isn't there," said Sebastien Maillard, Director of the Jacques Delors Institute, a Brussels-based think tank.
"It's also an opportunity to show that the Europeans can discuss their strategic interests among themselves, without the Americans."
For Moldova itself, the stakes are more straightforward than a debate about where the balance of power lies in Western leadership circles: The summit is a stage to promote its EU ambition and to surround itself with friends in the face of Russian manoeuvres.
Earlier this month, President Maia Sandu told AFP that Moldova wants to join the European Union "as soon as possible" and to begin formal accession talks within months.
"Of course, nothing compares to what is happening in Ukraine, but we see the risks and we do believe that we can save our democracy only as part of the EU," she said.
"We do believe that Russia will continue to be a big source of instability for the years to come and we need to protect ourselves."
In the run up to the summit, European leaders have been posting short videos of support for Moldova linked by the hashtag: "MoldovaIsNotAlone".
In June 2022, less than four months after Russia unleashed an all-out invasion, the EU member states granted Ukraine and Moldova official candidate status. In the months to come, they will have to decide when to begin negotiating membership terms.
Judging by the experience of other recent arrivals, and of the countries of the Western Balkans languishing in the EU waiting room, the whole process could take years, despite Zelensky's mounting frustration and a recent huge pro-EU rally in Moldova.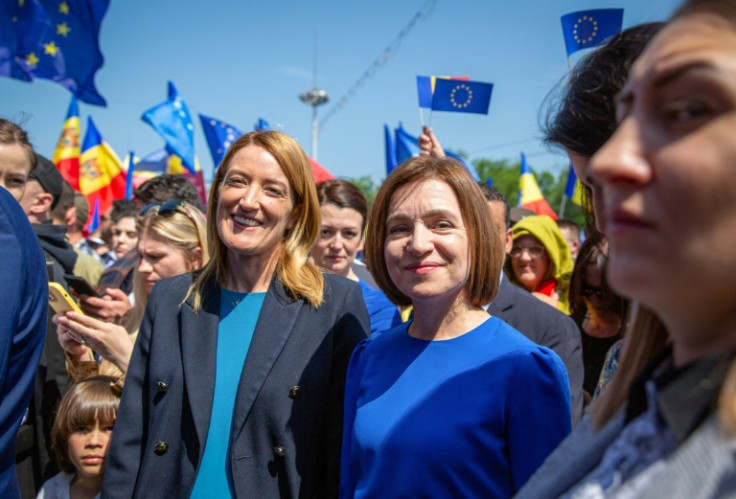 © Copyright AFP 2023. All rights reserved.