European Stocks Poised to Fall as Gold Hits $1,878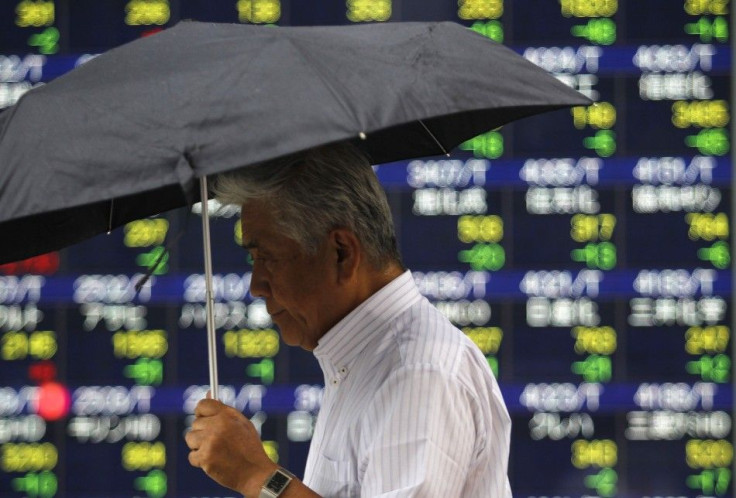 European stocks looked set to extend four weeks of losses Monday, tracking jittery Asian shares lower, while gold shot to new highs as investors worried about the sluggish U.S. economic outlook and Europe's festering debt crisis.
Major European benchmark indexes were expected to open as much as 1.1 percent lower, tracking Friday's losses on Wall Street on worries the U.S. economy may slide into recession again.
Spot gold prices hit a record above $1,878 per ounce as the shaky global outlook prompted investors to move more money into the safe haven, while oil prices tumbled on hopes Libya may resume full output soon as a six-month civil war seemed to be nearing an end.
Japan's Nikkei 225 index lost 0.8 percent, with increasing expectations that Tokyo will intervene in forex markets to weaken the strong yen offsetting growing worries that the U.S. economy may be sliding back into a recession.
Shares elsewhere in the region as measured by the MSCI Asia Pacific ex-Japan index fell more than 1 percent after briefly edging into positive territory earlier in the session.
A similar pattern was seen in S&P 500 futures, which recoiled from early gains to slip 0.4 percent by 1:30 a.m. EDT, pointing to more losses in Western markets later in the day.
Given the economic hurdles faced in Europe and the United States, an upward trend is hard to sustain, said Park Yong-myung, a fund manager at Hanhwa Investment Trust Management.
Khiem Do, head of Asian multi-asset with Baring Asset Management in Hong Kong, said there would be little visibility on the direction of markets until it was clear whether the United States will slide into recession or not.
The sentiment of markets is very weak at the moment, he said.
MSCI's world stock index fell 0.4 percent. The index has slipped into a bear market territory by dropping more than 20 percent from its three-year high in May.
BERNANKE IN FOCUS
A key event this week will be a speech by Federal Reserve Chairman Ben Bernanke Friday in Jackson Hole, Wyo., during which he is expected to provide an economic outlook and hints on how policymakers plan to handle the turmoil in financial markets.
Bernanke used the same event last year to suggest the Fed could help growth by buying long-term bonds, but no major announcements are expected this time.
On Friday, U.S. stocks fell after Hewlett-Packard's weaker outlook and corporate shakeup added to uncertainty for investors after a month of bad surprises ranging from a U.S. credit rating downgrade to a sharp slowdown in world growth.
Markets will also watch data on bond buying by the European Central Bank and debt issuance by European countries such as Italy on Tuesday to see if the euro zone's debt crisis is worsening.
Also on Tuesday, a raft of preliminary manufacturing data will shed light on whether economies from China to the euro zone are continuing to lose momentum.
Brent oil futures fell 2.3 percent to $106.10 a barrel, weighed down by a firmer U.S. dollar and as the months-long conflict in oil-producing Libya appeared to enter its decisive phase, with rebel fighters streaming into the heart of Tripoli.
The dollar index, which tracks the strength of the greenback against a basket of currencies, rose 0.1 percent.
The dollar surged higher against the yen, but later pared some of its gains, with traders citing talk that the spike in the dollar was triggered by bids by a U.S. bank.
The move came as investors were increasingly on edge about the possibility that Japan may intervene to curb yen strength, in the wake of the dollar's drop down to a record low around 75.95 yen late last week.
The dollar was largely flat against the yen at 76.71 yen, having risen to as high as 77.23 yen earlier.
(Reporting by Frederik Richter, Ayai Tomisawa and Ju-min Park; Editing by Kim Coghill and Ramya Venugopal)
© Copyright Thomson Reuters 2023. All rights reserved.