Eva Peron: Argentina's Joan of Arc Or Marie Antoinette?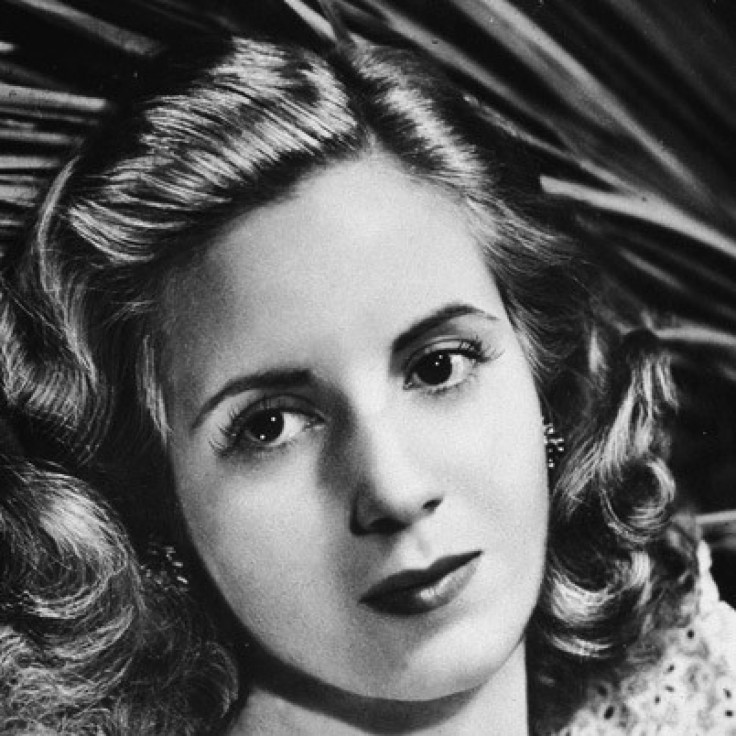 Sixty years after the death of Eva Peron, she remains a fascinating, controversial and polarizing figure for the people of Argentina and elsewhere.
The incredible rags-to-riches life of 'Evita' continues to attract millions of people, while repelling an equal number of others. A Broadway musical in 1976 and a popular film in 1996 starring Madonna as the heroine cemented her legacy and eternal fame.
Born into poverty in rural Argentina, the beautiful Eva went to Buenos Aires at the age of 15 to pursue an acting career. Instead, she met the dashing Colonel Juan Peron, married him, and eventually became the First Lady of Argentina.
Through her efforts to build schools and hospitals across the country, Evita became an idol of the Argentine poor and working classes. She even served as labor and health minister in her husband's administration – indeed, Evita became so popular she was able to form her own party, the female Peronist Party, the women's wing of Juan Peron's party structure.
Largely due to her efforts Argentine women were granted the right to vote in 1947.
Evita was also widely admired for her great beauty and fashion style.
However, the Argentine military and upper classes resented Evita and was able to prevent her from running for Vice President in 1951.
She died in July 1952 from cancer at the age of 33. She was given a state funeral, something usually reserved for heads of state.
Now, sixty years later, Evita's shadow looms across Argentina, with dozens of tributes planned in her honor, including new books about her life and legacy.
The figure of Eva has great relevance," Argentine historian Norberto Galasso, who has just published a new biography of her, told Spanish news agency Efe.
"Her figure has remained and was claimed by different political groups. Her name today still awakens love, but also hate, and it resounds beyond our country's borders.
Galasso described her as one of the most passionate and, at the same time, controversial figures of the 20th century.
He also examined the odd juxtaposition of Evita's charitable works with the harsher elements of her husband's militaristic Peronist party.
Some people recognize Evita as the good fairy who gave... assistance, and others recognize her as the maximum expression of the left [wing] of Peronism, but she was rather a bridge for Peron to the labor movement," Galasso said.
Her greatest contribution to social justice was probably the Eva Peron Foundation, established in 1948. With an annual budget of $50-million, the Foundation created hundreds of schools, old age homes, and hospitals across Argentina. The organization also sponsored thousands of scholarships and other benefits to the country's poor.
Eva's influence on her husband's government remains a mystery, as does the depth of her commitment to social justice in Argentina. Her supporters claim she truly loved and cared for the poor since she hailed from the lowest classes herself, while others believe she cynically used the public to gain power behind the scenes.
Juan Peron was repeatedly accused by his enemies of being a Fascist and Nazi sympathizer. Eva's 1947 tour of Europe, which included a highly publicized visit with the isolated Francisco Franco of Spain, heightened this perception. Worst of all, Argentina became a haven for Nazi exiles after the war, allegedly with the support of Juan Peron.
In connection with this aspect if post-war Argentina, the American film critic Roger Ebert condemned the 1996 film of Evita as a whitewash.
"She let down the poor, shirtless ones by providing a glamorous facade for a fascist dictatorship, by salting away charity funds, and by distracting from her husband's tacit protection of Nazi war criminals, he wrote.
However, Laurence Levine, the former president of the U.S.-Argentine Chamber of Commerce, wrote in a book that the Perons were not Nazis.
"Although anti-Semitism existed in Argentina, [Juan] Perón's own views and his political associations were not anti-Semitic," he wrote.
"Perón sought out the Jewish community in Argentina to assist in developing his policies and that one of his most important allies in organizing the industrial sector was José Ber Gelbard, a Jewish immigrant from Poland.
Eva was also defended by Tomás Eloy Martínez, the former director of the Latin American program at Rutgers University.
In an article in Time magazine, Martinez wrote: She was not a fascist -- ignorant, perhaps, of what that ideology meant. And she was not greedy. Though she liked jewelry, furs and Dior dresses, she could own as many as she desired without the need to rob others… It is true that [Juan] Perón facilitated the entrance of Nazi criminals to Argentina in 1947 and 1948, thereby hoping to acquire advanced technology developed by the Germans during the war. But Evita played no part. She was far from being a saint, despite the veneration of millions of Argentines, but she was not a villain either.
In any case, no less a figure than the current President of Argentina, Cristina Fernández de Kirchner, repeatedly evokes Evita as an inspiration and her idol. During her recent successful campaign, Fernandez lauded Evita as "a woman who signified not only the entry of women into Argentine politics, not only our country's most important social revolution, but who assumed without hypocrisy the representation of the people and the homeland, perhaps with more passion and love than anyone else.
Santiago Regolo, a researcher at the Eva Peron Museum in Buenos Aires, told BBC: Today we have a president who emulates Evita. It's impossible to think of a woman being president without Evita.
© Copyright IBTimes 2022. All rights reserved.
FOLLOW MORE IBT NEWS ON THE BELOW CHANNELS