Evidence Against Breonna Taylor's Boyfriend Kenneth Walker Part Of 'Cover-Up' Says Attorney
KEY POINTS
Louisville police collected photos and texts against Breonna Taylor's boyfriend, Kenneth Walker, after the fatal raid on March 13
Any new charges against Walker stemming from the evidence would be unrelated to Taylor's shooting
Walker's attorney said it was part of a "cover-up" by police
New documents released as part of the Louisville police's internal investigation into Breonna Taylor's shooting showed police continued investigating her boyfriend, Kenneth Walker, as part of what his lawyer said was a "cover-up."
The evidence included a series of texts between Walker and several individuals, whose names have not been released, about an alleged robbery and narcotics sales months before the March 13 raid.
Files from Louisville's Public Integrity Unit said Walker was in contact with a Hooters employee to sell pills, though it does not say what the pills were. Other texts showed Walker discussing marijuana sales, telling one recipient he just received a fresh supply from California. However, there was no evidence found showing the sales actually took place.
The alleged robbery was discussed in a series of texts on Oct. 3, 2019, where Walker appears to plan it out with at least two other individuals.
"Walker asked how much 'bread' (money) there is supposed to be," the PIU files said. "(Redacted) said at least 25K but he's going to watch the guy to see how much he's getting. (Redacted) asks if it an easy target or if they need to do homework. Walker (said) they needed to do homework regardless."
Several photos also showed Walker and Taylor posing with a Glock handgun believed to be the weapon he fired the night of the raid and an AR-15 Walker said he already sold.
The Jefferson County Commonwealth Attorney's office said Thursday it was reviewing the information found in the PIU files and new charges could be filed against Walker. Any charges from the files would be unrelated to the March 13 shooting.
However, the files have come under heavy scrutiny from law experts and Walker's attorneys.
"It's just a cover-up," attorney Steven Romines, who is representing Walker in his lawsuit against the police, told NBC News. "And it reflects the fact that over two months into the investigation of Breonna Taylor's death, LMPD [was] more interested in including unsupported allegations to smear Kenny Walker than it [was] in actually finding the truth."
"All they are trying to do is smear him after the fact to justify their actions."
Walker admitted to marijuana use and owning the firearms while police had him in custody after the raid. However, he said he sold the AR-15 and was trying to get off marijuana after applying for a job at his local post office. No evidence was found either Walker or Taylor were involved in narcotics sales and distribution.
Other law experts said the police's actions after the shooting showed a possible conflict of interest on part of the police. One of these experts was Los Angeles police veteran Tyler Izen, who said the LAPD took steps to avoid a potential conflict of interest during internal investigations. He said the actions of the Louisville police only served to further undermine the public's trust in the police.
"Some of this is just astounding," Izen said. "I do not know why you would have an internal affairs investigator also investigating the crime, because all it does is take away your credibility. It's victim-blaming all over again."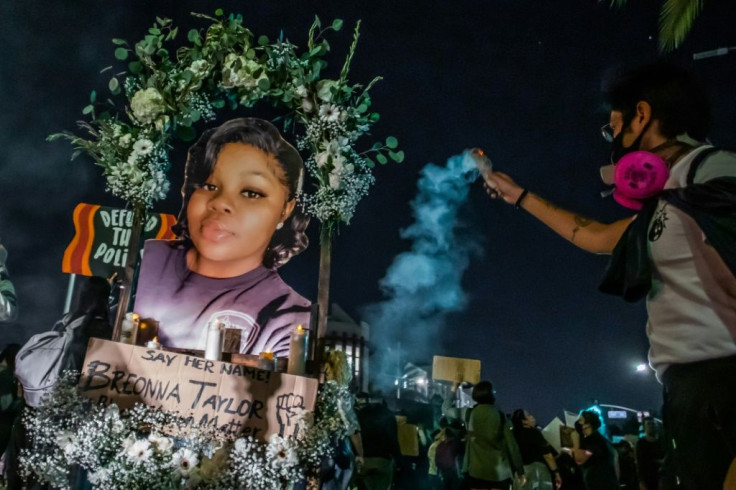 © Copyright IBTimes 2023. All rights reserved.
FOLLOW MORE IBT NEWS ON THE BELOW CHANNELS