Exclusive: Size 4 Mama June Gives Diet Tips To Fans After 'From Not To Hot' Weight Loss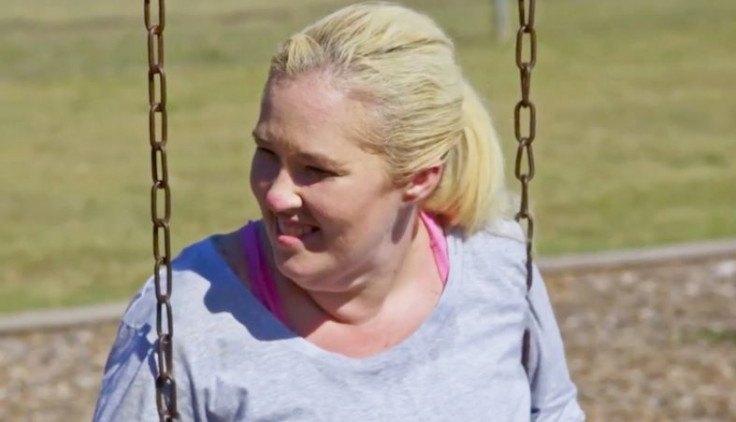 Former "Here Comes Honey Boo Boo" star Mama June Shannon denied rumors she wore fat suit and offered support to anyone who is embarking on a weight loss journey like hers.
The reality TV star was subjected to the rumors after some people claimed it looked like she wore prosthetics on the first episode of her weight loss TV show on WEtv, "Mama June: From Not to Hot." When asked if rumors about wearing any type of prosthetics were true, she told International Business Times in a phone interview Friday, "No, it's not."
READ: Thin Mama June's Weight Loss Sparks Fat Suit Rumors About Size 4 Figure
One of the hardest things for Shannon, 37, since she had the surgery was eating out. "Not being able to go to a restaurant and eat even a kid's meal portion [has been difficult]," she said.
Shannon made the decision to go through with weight loss surgery and then WEtv cameras tagged along after. "I worked with WEtv through 'Marriage Boot Camp' so we already had a working relationship," she told IBT. "They heard I was going to have the procedure done and they wanted to document it because they thought it was interesting and exciting."
Shannon was inspired to get a gastric sleeve after she was turned down for skin removal. She had lost some weight by dieting, but still needed to lose more to get the cosmetic surgery. "When I started I actually wanted to skin removed on my arms and then learned it was easier to have the gastric sleeve before you have any skin removed," the Georgia native revealed.
But skin removal wasn't Shannon's only motivation. "I wanted to change," she said.
So what's next for Shannon? She's enjoying the present. "I don't know what's next," the reality TV star revealed. "I don't have a plan in mind. I have a couple of things that are in the works, but nothing is set in stone. Right now I'm enjoying spending time with the family and not being in production."
Before Shannon signed off with IBT, she wanted to thank her fans for their continued support. She also offered some advice for anyone who is embarking on a weight loss journey like hers. "No one is perfect," the newly slim star admitted. "I'm not perfect."
READ: How Much Does Mama June Weigh After Surgery?
She emphasized that slip ups in diets are bound to happen. "You to continue on," Shannon said about remaining healthy. "If you cheat, don't put yourself down because everyone does it."
Shannon didn't reveal how much weight she lost, but she reportedly started her journey at 460 pounds, wearing a size 18, and slimmed down to a size 4. Her final weight has not yet been revealed.
"Mama June: From Not to Hot" airs Fridays at 10 p.m. EST on WEtv.
Follow me on Twitter @mariamzzarella
© Copyright IBTimes 2023. All rights reserved.