Extreme Weather 2019: Freezing Temperatures, Snow Expected From South Texas To Northeast US From Arctic Blast
Much of the eastern U.S. braces for a week of chilling weather due to an arctic blast that's expected to break records across the country.
The arctic blast began Monday when temperatures began to drop rapidly in the Great Plains as it continued moving east. By Monday night, winter temperatures were reported from South Texas to the Canadian border, along with some areas being hit with a foot of snow.
Temperatures were also expected to drop further into the week and break up to 300 daily records for the season across the U.S.
"You are talking single digits in Chicago, Indianapolis, Detroit," AccuWeather meteorologist Tyler Roys told USA Today. "Atlanta will see the mid-20s. Low 20s in Birmingham, some other parts of Alabama. We will be challenging records everywhere."
Chicago was one of the worst areas hit, with a reported temperature of 20 degrees and scattered snow showers. The temperature broke the previous record low of 28 degrees while the combinations of cold and snow proved hazardous for some travelers. An American Eagle flight into Chicago's O'Hare International Airport reportedly slid the runway while landing. Another 1,300 flights had been canceled by 8 p.m. Monday night due to worsening weather conditions.
No injuries were reported in the scare.
Weather in the northeastern U.S. began to drop by late Monday, with temperatures ranging from the mid-20s to single digits across the region. Snowfall had also begun ramping up as areas of upstate New York reported 8 inches of snow overnight.
"We expect a swath of higher snowfall totals from central New York to northern Maine, where accumulations could climb into the double digits," AccuWeather meteorologist Courtney Travis said.
The National Weather Service tweeted out its own expectations for the snowfall, along with subsequent warnings.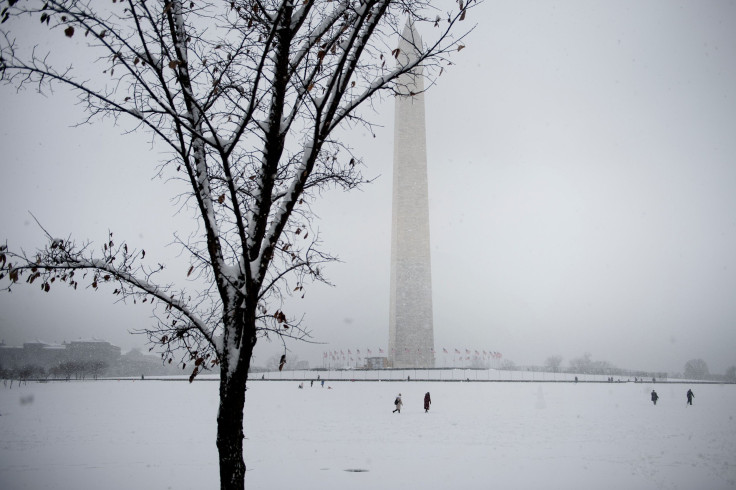 © Copyright IBTimes 2023. All rights reserved.