Facebook's Zuckerberg, Google's Brin And Microsoft's Allen Lead List Of Most Charitable Americans In 2012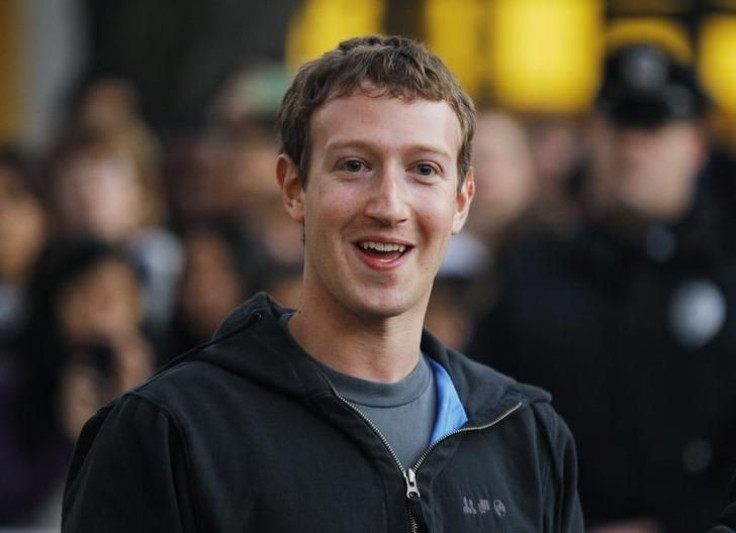 Facebook founder Mark Zuckerberg was the second most charitable American in 2012, leading ahead of other tech industry giants like Google's Sergey Brin and Microsoft's Paul Allen.
The Chronicle of Philanthropy, a news organization focused on philanthropy, published its annual America's Most Generous Donors list on Feb. 10. Zuckerberg and wife Priscilla Chan ranked No. 2 on the list, behind only Warren Buffett, who donated an astounding $3 billion in 2012.
In December 2012, Zuckerberg and Chan donated $500 million, in the form of 18 million shares of Facebook's stock (NASDAQ:FB), to the Silicon Valley Community Foundation.
"Today, in order to lay the foundation for new projects, we've made a contribution of 18 million Facebook shares to the Silicon Valley Community Foundation," Zuckerberg wrote in a Facebook post when he announced the donation. "Together, we will look for areas in education and health to focus on next. I'm hopeful we'll be able to have as positive an impact in our next set of projects."
The Silicon Valley Community Foundation is a philanthropic trust that identifies emerging challenges in the region and addresses them by bringing diverse groups of problem-solvers together "to strengthen the common good."
The $500 million donation was the biggest Zuckerberg has ever made, but he's made some other sizable contributions as well. In 2010, Zuckerberg gave $100 million to New Jersey's Newark Public School System to revamp its failing education program. Zuckerberg, along with Gov. Chris Christie and Newark Mayor Corey Booker, visited the "Oprah Winfrey Show" in September 2010 to announce the Facebook founder's donation.
Zuckerberg's ties to Newark stem from his friendship with Cory Booker. Zuckerberg was looking to donate money to an education-based cause when he first met Booker in 2010. At first, the pair discussed education reform, but Booker eventually convinced Zuckerberg to donate millions of dollars to Newark, where the education system was deemed a failure by the state government after being taken over by the state in 1995.
Zuckerberg is also a supporter of New Jersey Gov. Chris Christie, and he announced recently that he will host a fundraiser for the governor later this month. According to Buzzfeed, Zuckerberg and Christie have similar ideas about education reform, which seems to be an important issue for the tech magnate.
Other tech gurus also made the top ten on Forbes' list. Google co-founder Sergey Brin and wife Anne Wojcicki donated approximately $222 million in 2012 and were No. 5 on the list. The couple gave $190 million to their Brin Wojcicki Foundation, which supports a variety of causes: Last year, their foundation gave grants to the Human Rights Foundation, the Tipping Point Community, and Ashoka, an organization that works with social entrepreneurs to solve critical social problems like education and women's rights.
Microsoft co-founder Paul Allen grabbed the No. 4 spot on the list. The 60-year-old donated $300 million to the Allen Institute for Brain Science to fund a ten-year project to determine brain mechanisms and the cause of neurological disorders. In total, Allen donated almost $310 million in 2012.
Tech leaders have been especially philanthropic in past years, but a noticeable absence from the list is Microsoft co-founder Bill Gates. Gates donated $750 billion to the Global Fund to Fight AIDS, Tuberculosis and Malaria in January 2012, but the donation was not eligible for the list. Editor Stacy Palmer from The Chronicle of Philanthropy clarified to IBTimes, confirming the donation came from the Bill and Melinda Gates Foundation, not from the billionaire himself.
© Copyright IBTimes 2023. All rights reserved.