Factory growth slows, casts shadow on economy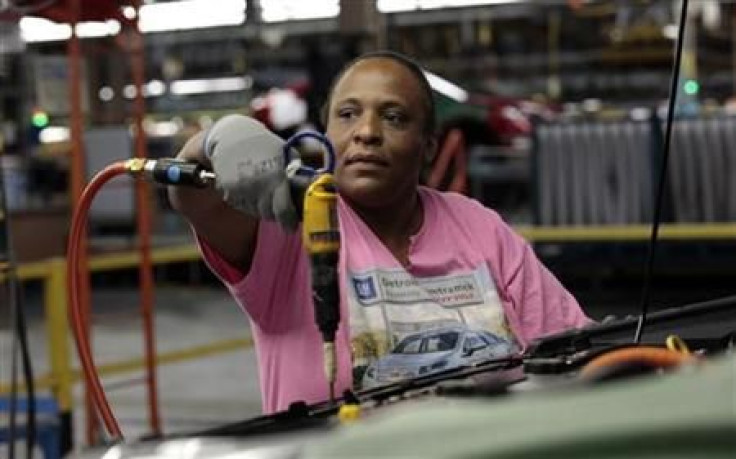 Manufacturing grew at its slowest pace in two years in July as new orders contracted, casting doubt on expectations the faltering recovery would quickly regain steam.
The Institute for Supply Management said on Monday its index of national factory activity fell to 50.9, the lowest level since July 2009, from 55.3 in June.
Economists had expected a reading of 54.9. A reading below 50 indicates a contraction in manufacturing.
The economy almost ground to a halt in the first half of the year, data showed on Friday, with output rising at a tepid 1.3 percent annual pace in the second quarter after expanding at just a 0.4 percent rate in the first three months.
Analysts had pinned the slowdown on temporary factors, but signs of a pickup are proving elusive and the factory data led some economists to revisit their forecasts.
"The recent easing in economic growth is increasingly looking more like a sustained slowdown than a short-lived soft patch," said Paul Dales, an economist for Capital Economics in Toronto.
U.S. stocks, which opened higher on relief lawmakers in Washington had struck a deal to ward off a national default, turned negative on the weak factory data. The Standard & Poor's 500 Index closed slightly lower on the day.
Prices for U.S. government bonds rose, while economic worries lifted the dollar against the euro as investors exited riskier bets.
The slowdown in the U.S. factory sector was part of a world-wide trend, with global manufacturing activity expanding at the weakest rate since just after the 2009 recession.
Economists have said the prospect the United States could default on its obligations had cast a chill over the economy in July. The deal to lift the nation's $14.3 trillion debt limit reached on Sunday offered hope of better times ahead.
TRIMMING GDP FORECASTS
Manufacturing, which accounts for about 12 percent of U.S. gross domestic product, has carried the weak recovery from the recession.
However, activity slowed sharply in May as supply chain disruptions from Japan's earthquake-related disasters curbed production. Analysts had expected activity to accelerate as those disruptions eased.
Last month, factories were held back by weak orders, which hit their lowest level since June 2009. An index measuring prices paid also fell, as did a gauge of employment.
"Since orders are a leading indicator, the drop in this index suggests the second half pickup in growth will be far less than some had estimated," economists at Wells Fargo Securities wrote in a research note.
A Reuters poll of economists released on July 14 showed forecasters expected growth over the second half of the year to come in at around a 3 percent pace. An increasing number are now warning that that could be hard to achieve.
A report on Friday is expected to show nonfarm employment rose by 85,000 in July, an improvement from June's paltry 18,000 gain but disappointing nonetheless. Some economists said the drop in the ISM employment gauge suggested forecasts for payrolls might be on the high side.
Separate data from the Commerce Department on Monday showed construction spending advanced 0.2 percent in June, with private construction spending rising 0.8 percent to a seven-month high but public projects dropping 0.7 percent.
Spending for both April and May was revised higher, suggesting the economy may have had a touch more vigor in the second quarter than the figures released on Friday showed.
© Copyright Thomson Reuters 2023. All rights reserved.