Fall Equinox 2014: When Does The End Of Daylight Saving Time Occur?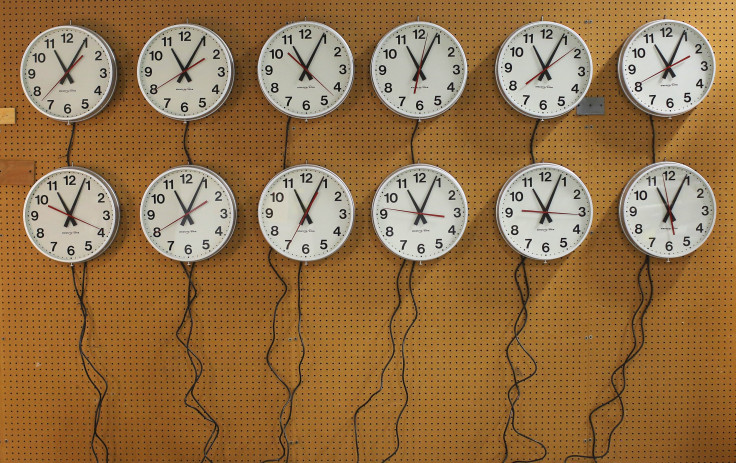 Fall is officially upon us! As of 10:29 p.m. EDT Monday, the Northern Hemisphere welcomed in the 2014 autumnal equinox. With daylight and nighttime hours now equal, the question has already been raised: When does the end of daylight saving time occur? Despite it being officially fall, the end of daylight saving time will not take place in the U.S., Canada and other participating Caribbean isles for several weeks.
Unlike locations such as Egypt, Gaza and Bethlehem, which will move their clocks back starting Friday, Sept. 26, the U.S. is not due to observe the end of daylight saving time until Sunday, Nov. 2, starting at 2:00 a.m, as reported by the Old Farmer's Almanac. It's important to note that a majority of Arizona, some regions of Alaska, Hawaii, Puerto Rico, the Virgin Islands, Midway Atoll and Wake Island will not participate.
Other locations that will take part in the end of daylight saving time on Nov. 2 include the Turks and Caicos, Bermuda, Cuba, Haiti, the Bahamas, Mexicali, and Saint Vincent and the Grenadines. Most locations in Canada, except small regions of Quebec, Ontario, British Columbia, Nunavut and most of Saskatchewan, will participate.
So will we lose an hour or gain an hour? Fortunately, for those who enjoy their beauty sleep, the official end of daylight saving time means that we will gain one extra hour of local daylight time. At 2:00 a.m. Sunday, Nov. 2, clocks are to be turned back one hour, making it 1:00 a.m. Because of this change, sunrise and sunset will occur one hour earlier on Nov. 2. Daylight saving time will begin again on Sunday, March 8, 2015.
© Copyright IBTimes 2023. All rights reserved.